LUNCH
Vegan Cobb Salad – Nora Cooks
Bring this hearty and filling Vegan Cobb Salad to brunch, picnics, or potlucks. Made with tempeh bacon and red wine vinaigrette, it's easy to customize and loaded with protein.
Forget everything you know about boring salads! This Vegan Cobb Salad is changing the game and checking all of the right boxes: it's easy to make, crowd-pleasing, and filling enough to eat on its own. Dressed in a red wine vinaigrette, the flavors are exciting and bold!
Just like my Kale Caesar and Vegan Chicken Salad, I've substituted the classic not-so-vegan ingredients of a cobb salad recipe and added a twist. The layers of vegan tempeh bacon, avocado, sunflower seeds, tomatoes, and chickpeas don't only provide the salad with flavor and color, but it's packed with plant based protein! In other words, it's one of the best vegan salads to make for Sunday meal prep or to eat as a healthy dinner.
It's really easy to customize too. Add some corn, ranch dressing, vegan cheese, or more veggies to make it just the way you like. Whether you pack it up to bring to barbecues or to enjoy it as a grab-an-go lunch, vegan cobb salad with protein travels well and is sure to make your day better.
What is cobb salad?
Cobb salad is a filling lunch or dinner traditionally made with romaine or iceberg lettuce, hard boiled eggs, avocado, bacon, chicken, cheese, and tomatoes. It's usually dressed in a red wine vinaigrette, but pairs nicely with creamy blue cheese or ranch dressing as well.
Thankfully, this hearty vegan salad is easy to customize. Just swap the animal products for lots of hearty vegetables, vegetarian bacon, and vegan cheese!
How to make a vegan cobb salad
Make the FAST tempeh bacon by sautéing the pieces in a skillet with oil. Stir in some soy sauce, maple syrup, liquid smoke, and garlic powder to infuse the savory bacon-y flavors. Take it off the heat and set aside until it's time to assemble.
Whisk the olive oil, vinegar, garlic, maple syrup, dijon mustard, oregano, salt, and pepper together to make the red wine dressing.
To assemble the salad, place the chopped lettuce in a bowl. Arrange the toppings in lines over the greens. Drizzle the dressing over top and enjoy!
Customize it
Vegan protein – Swap the homemade tempeh bacon for tofu bacon, marinated coconut bacon, vegan chicken, air fried tofu, or store bought vegan bacon.
Toppings – The toppings can easily be customized depending on what you like or the season. Corn would be a great addition, as well as cooked quinoa or farro, sliced radishes, fresh herbs, cucumber, vegan cheddar cheese or parmesan cheese, or green beans.
Dressing – Instead of vinaigrette, use a creamy vegan ranch dressing, green goddess dressing, or vegan blue cheese dressing.
Make ahead tips
Each element in a cobb salad can be prepared ahead of time. Make the tempeh bacon, chop the veggies, and prepare the vinaigrette up to 3 days ahead and keep everything in separate airtight containers in the fridge.
Meal prep tips
Ever heard of mason jar salads? It's a nifty way of packing a salad's toppings, protein, lettuce, and dressing all in one jar without it getting soggy. To do this with a vegan cobb salad, just keep the avocado separate and follow these directions:
Start by pouring a few tablespoons of dressing on the bottom of a jar or container.
Layer the vegetable toppings and chickpeas overtop, ending with the tempeh bacon.
To finish, add the greens and seeds, then seal with a lid.
When it's time to eat, simply shake up the container and enjoy! Top with some avocado and any additional toppings that you love.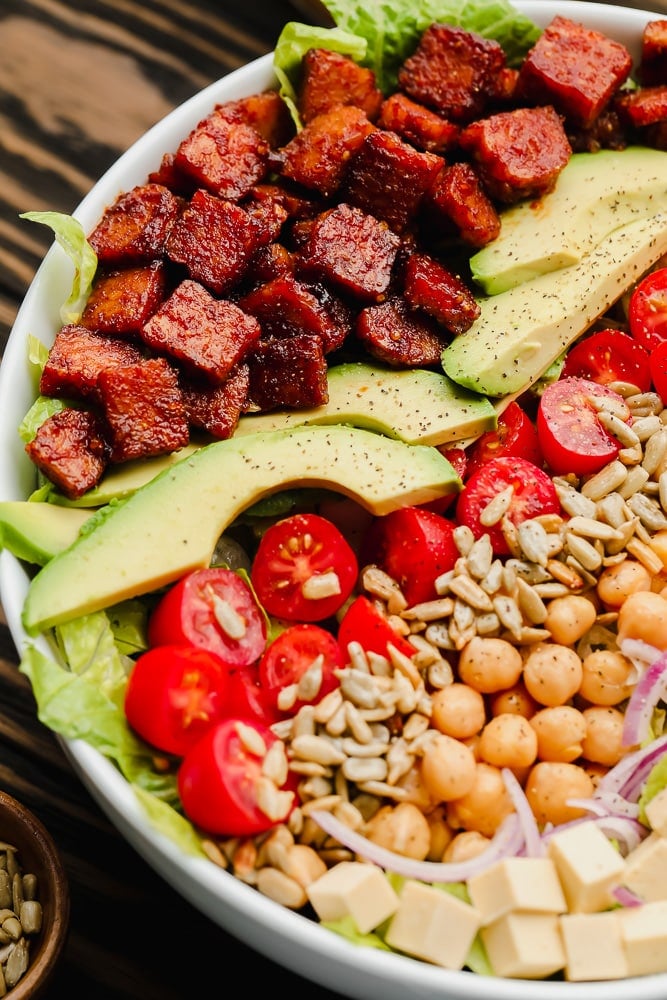 More filling and hearty vegan salads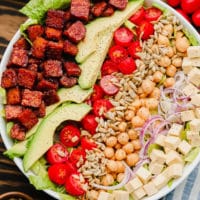 Prevent your screen from going dark
Make the tempeh bacon
In a large pan over medium-high heat, warm the oil then add the tempeh pieces and sauté for 3-4 minutes, stirring frequently.

Now add the soy sauce, maple syrup, liquid smoke and garlic powder to the pan and stir to coat the tempeh. Cook for another 1-2 minutes, then remove from heat and set aside.
Make the vinaigrette
In a small bowl, whisk together the olive oil, vinegar, garlic, maple syrup, dijon mustard, oregano, salt and pepper. Or place all ingredients in a small mason jar with a lid and shake until combined.
Assemble
Place the chopped lettuce in a large bowl or platter. Arrange the tomatoes, avocados, red onion, sunflower seeds, chickpeas, optional vegan cheese and tempeh bacon in lines over the greens.

Whisk or shake the dressing once more before drizzling over the salad. You may not need all of the dressing. Serve immediately.
Nutritional calculation is an estimate only and will vary greatly depending on serving sizes, how much of the dressing you use, etc. The salad will makes 2 huge servings, 4 large servings or 6-7 small/medium servings. 
May use leftover tempeh bacon or tofu bacon for the salad, or even store bought vegan bacon. See the post for more ideas.
You can leave out the sunflower seeds, add cooked quinoa or farro, or switch up the vegetables by adding corn or green beans. 
Feel free to use another dressing such as my Vegan Ranch or Green Goddess.
Serving: 1of 6 servings, Calories: 423kcal, Carbohydrates: 24g, Protein: 12g, Fat: 34g, Saturated Fat: 5g, Sodium: 481mg, Potassium: 797mg, Fiber: 7g, Sugar: 9g, Vitamin A: 4323IU, Vitamin C: 15mg, Calcium: 99mg, Iron: 3mg
We are a participant in the Amazon Services LLC Associates Program, an affiliate advertising program designed to provide a means for sites to earn advertising fees by advertising and linking to amazon.com. Read my full disclosure here
Source link