LUNCH
Chickpea Salad Recipe – Nora Cooks
Pair this fresh and zesty Chickpea Salad Recipe with more picnic-ready sides or summer grilling. It's easy to assemble, full of flavor and naturally gluten free. Sure to be a hit at any potluck!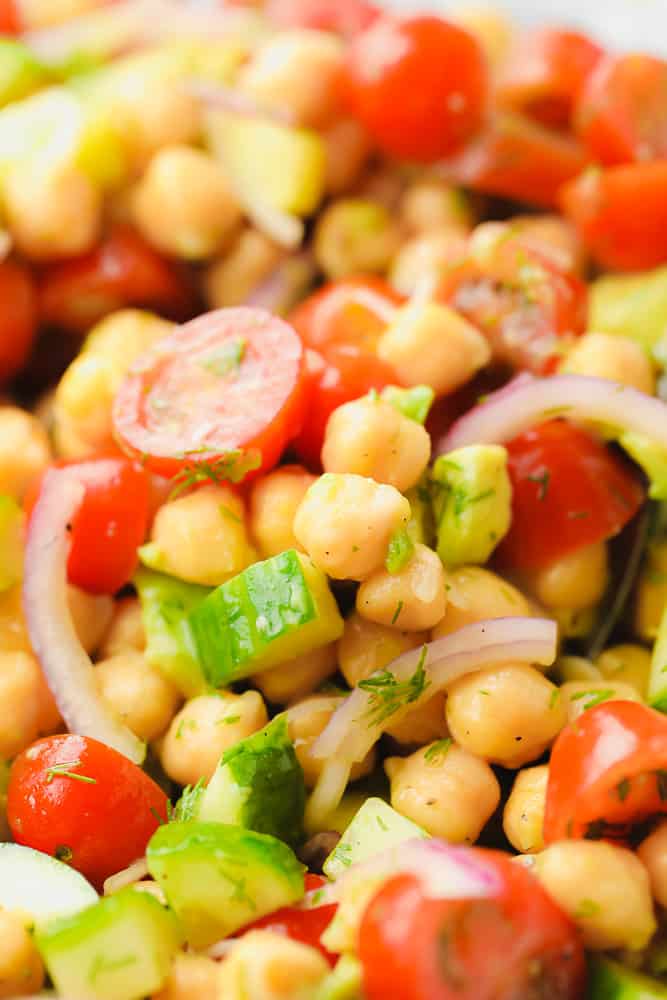 Looking for a healthy dish you can pack up and bring to picnics, barbecues, or the beach? You've come to the right place! 
This vegan Chickpea Salad has everything you love about a picnic-ready meal. It's made with fresh and healthy ingredients you can throw together in seconds, has lots of bright and vibrant flavors, and pairs well with more summer favorites, like Vegan Pasta Salad and Veggie Burgers. 
Every bite of this simple chickpea salad is loaded with juicy cherry tomatoes, crunchy cucumbers and red onion, chickpeas, and avocado chunks for a little creaminess. Toss it in the easy zesty dressing for balanced flavor and it's ready to enjoy. Don't forget the Strawberry Cupcakes for dessert!
You're going to love this chickpea avocado salad! It's…
Full of plant-based protein
Filling, fresh, and flexible
Made with gluten free and vegan ingredients
A real crowd pleaser!
Chickpea salad dressing
Just like a pasta salad, we need a dressing to round out the flavors and bring everything together. The dressing for this chickpea salad is made with 4 pantry staple ingredients: maple syrup, olive oil, lemon juice, and salt and pepper. It's a great go-to dressing you can mix up in seconds, pack away for later, or customize with a few additions, like fresh or dried herbs.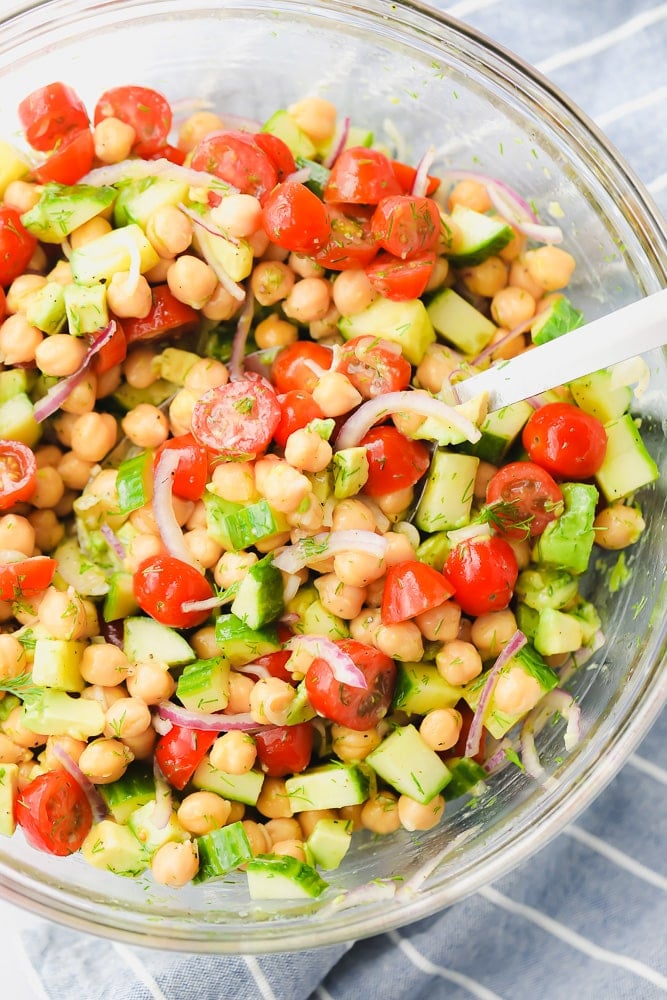 How to make chickpea salad
Place the rinsed chickpeas, chopped vegetables, and herbs into a large bowl.
Make the dressing by whisking all of the ingredients together in a small bowl. Pour it over the salad, mix it all up, and serve!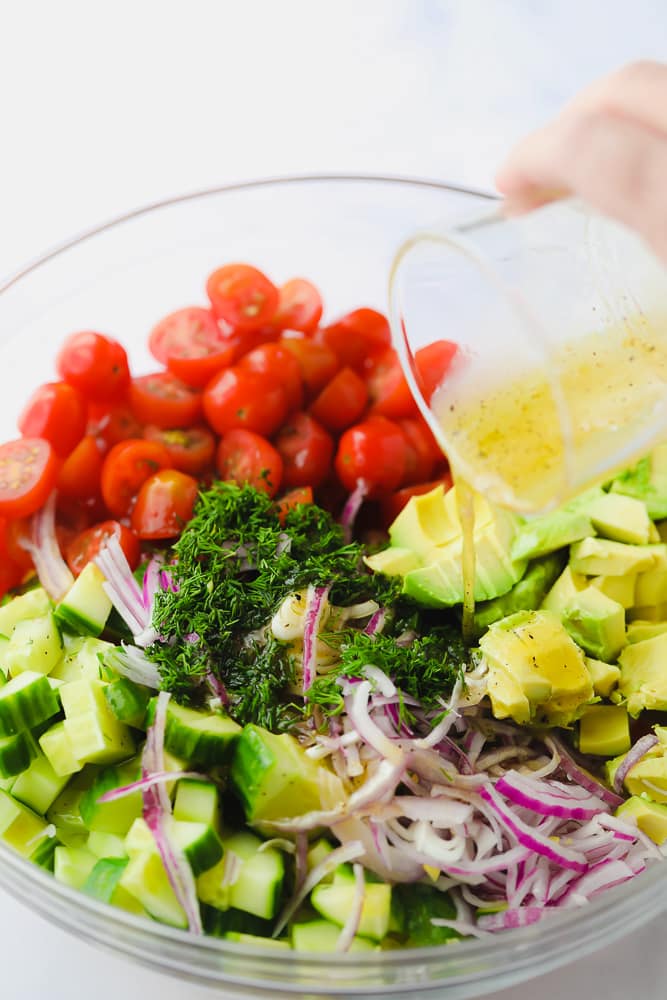 Variations
More veggies – Chopped green or red bell peppers, sundried tomatoes, cooked quinoa, fresh herbs, or artichoke hearts would all be delicious additions.
Vegan cheese – Feel free to add vegan feta (I like Violife brand) or cubed vegan mozzarella to the salad.
More beans – Mix in drained and rinsed white beans or cooked and cooled lentils to the salad to add more protein.
Mediterranean chickpea salad – Add kalamata olives, vegan feta cheese, and green bell peppers to give the salad fresh Mediterranean flavors.
Oil free salad – Omit the olive oil from the dressing.
Can I make it ahead of time?
Of course! Assemble the salad without the avocado, cover the bowl, and store it in the fridge for up to 4 days. Add the avocado right before serving so it doesn't turn brown.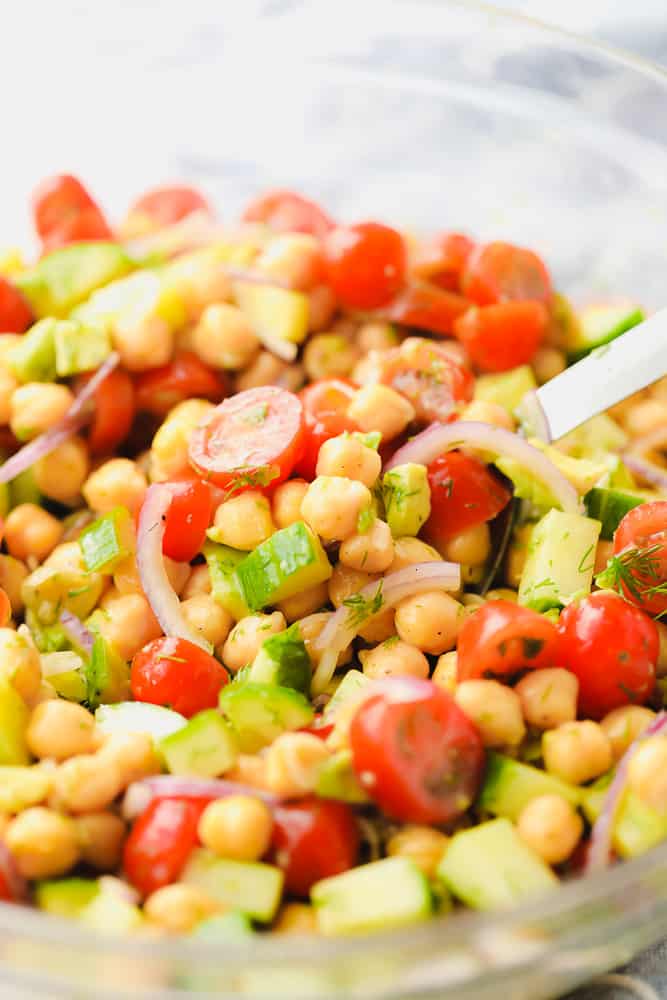 More vegan salad recipes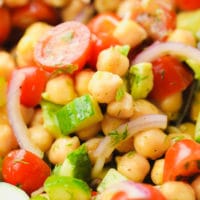 In a large bowl, add the drained and rinsed chickpeas, cucumber, cherry tomatoes, red onion, fresh dill and avocado.

Make the dressing: In a small bowl, whisk together the dressing ingredients to combine.

Pour the dressing over the salad, and stir to mix. Refrigerate until ready to serve.

Will keep for 3-4 days in the refrigerator. Enjoy!
For oil free, leave out the olive oil.
You may add some vegan feta (I like Violife brand) or Vegan Mozzarella, cut into small cubes.
Make ahead – You can prepare the salad ahead of time and keep covered in the refrigerator for a few days. Add the avocado right before serving so it doesn't brown.
Serving: 1of 8 servings, Calories: 188kcal, Carbohydrates: 21g, Protein: 7g, Fat: 9g, Saturated Fat: 1g, Sodium: 395mg, Potassium: 423mg, Fiber: 7g, Sugar: 3g, Vitamin A: 368IU, Vitamin C: 14mg, Calcium: 57mg, Iron: 2mg
We are a participant in the Amazon Services LLC Associates Program, an affiliate advertising program designed to provide a means for sites to earn advertising fees by advertising and linking to amazon.com. Read my full disclosure here
Source link