LUNCH
Healthy Potato Salad (Vegan, Oil Free)
Healthy Potato Salad, just like mom used to make but better for you! Perfect for potlucks or summer barbecues, and no would will guess it's vegan. Oil free, vegan, gluten free and super creamy!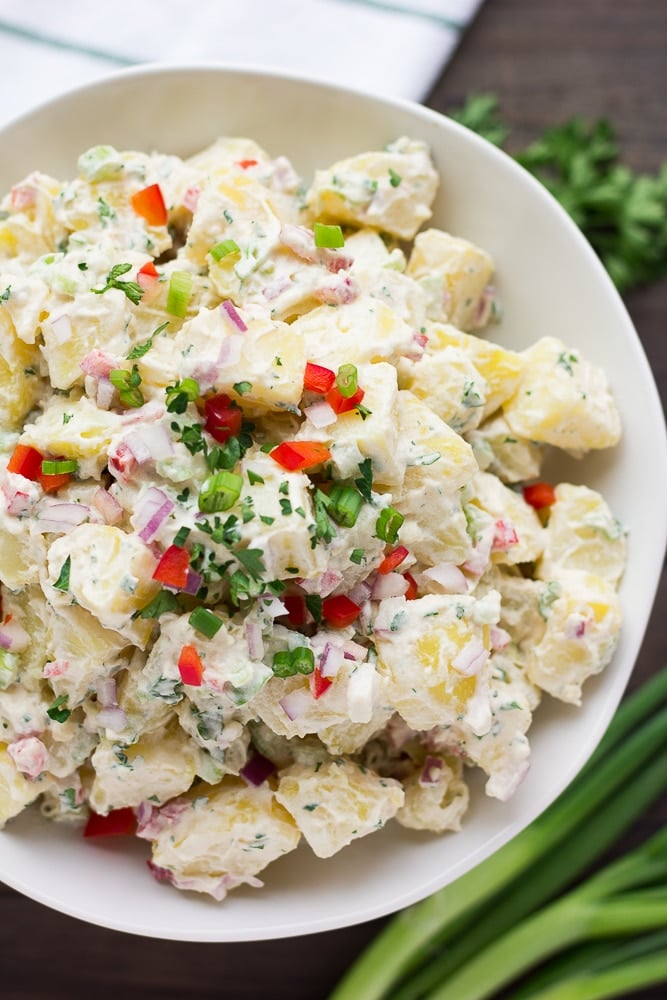 I have been making this vegan potato salad for at least 6 years now. I just sort of developed it according to my own tastes (long before this blog was in existence). I have brought it to countless barbecues and potlucks, and it never ceases to impress people! I've had several people tell me they don't usually like potato salad but this one they love.
This Potato Salad will wow any crowd; it's one of those dishes that no one will guess is vegan if you don't tell them! It's super creamy and has those classic flavors you're used to, but without any of the animal products.
Another bonus: It's oil free and made with good-for-you ingredients!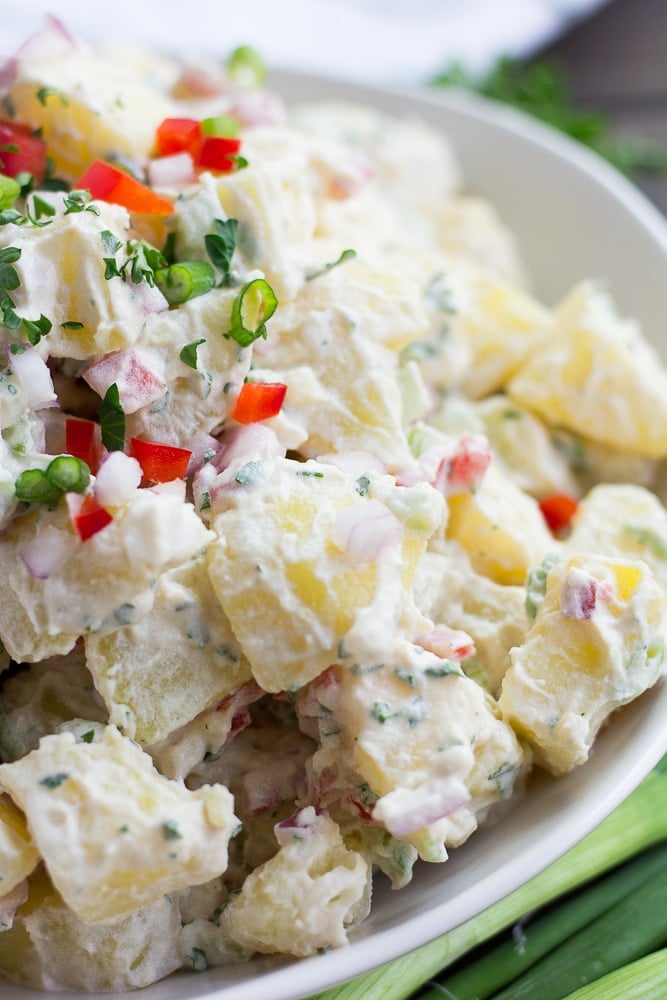 How do you make it?
Start by chopping all of your vegetables, including peeling and chopping the potatoes. It will be easier to have everything prepped and ready.
Next, make the Vegan Mayo following the instructions.
SEE RECIPE CARD BELOW FOR MORE DETAILED INSTRUCTIONS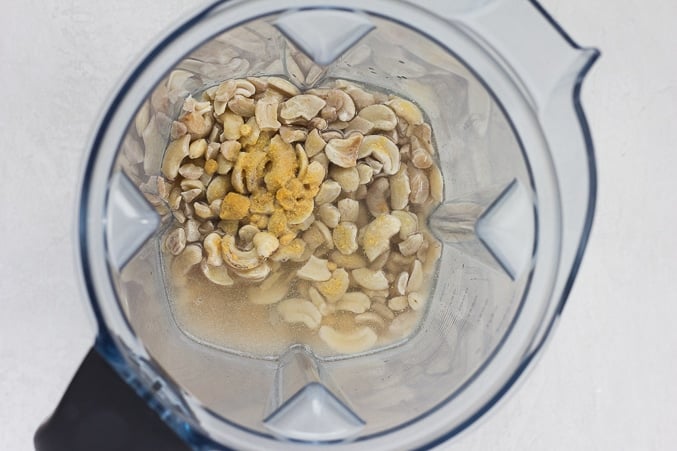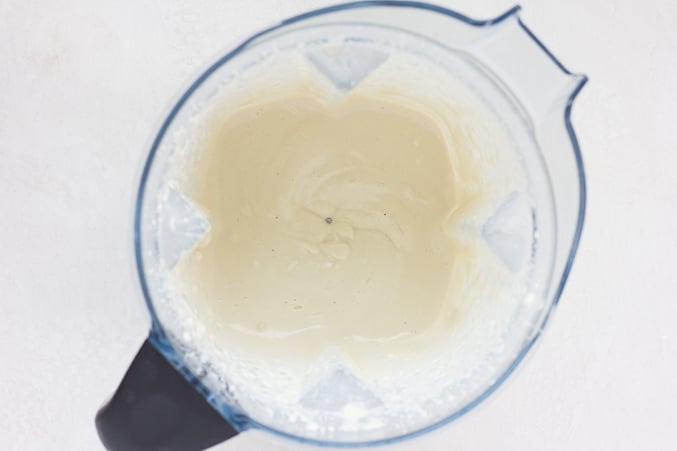 Now add the potatoes to a pot and cover with water. Bring to a boil and cook for 10-15 minutes, until fork tender. Drain in a colander.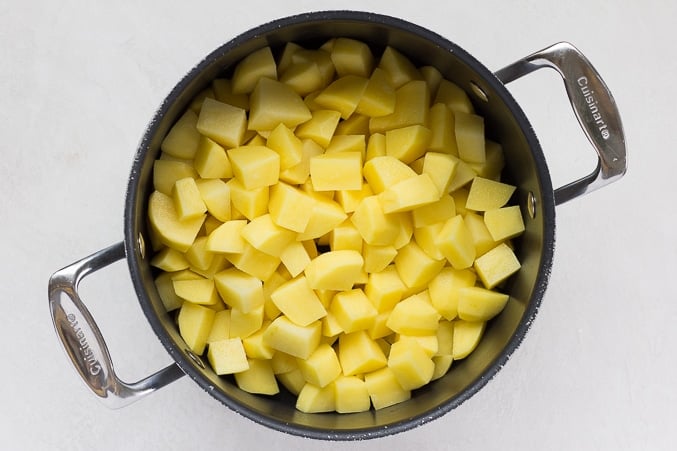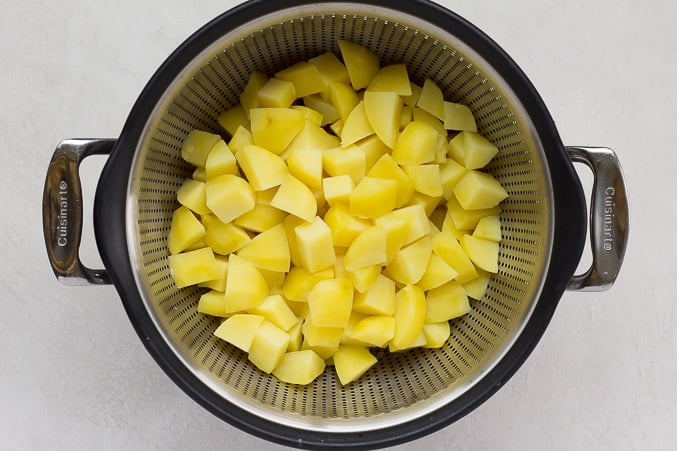 Now add the potatoes, all the vegetables and the cashew mayo to a very large bowl. Mix well with a large wooden spoon, and then refrigerate for a couple of hours so they flavors can mingle and it can get cold.
Feel free to switch up the vegetables to suit your personal tastes. If you hate red peppers, leave them out or add some shredded carrots instead. If you aren't a huge "onion" fan, leave out the chopped red onions, they are totally optional.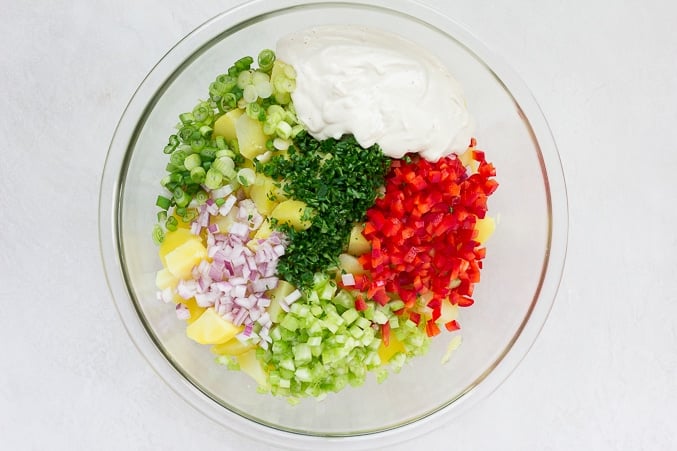 I hope you all LOVE this Healthy Potato Salad! It's:
Creamy
Rich without animal products
Crunchy from the chopped vegetables
The ultimate summer barbecue dish
Nutrient rich & oil free
Gluten free
Want more vegan barbecue/potluck recipes?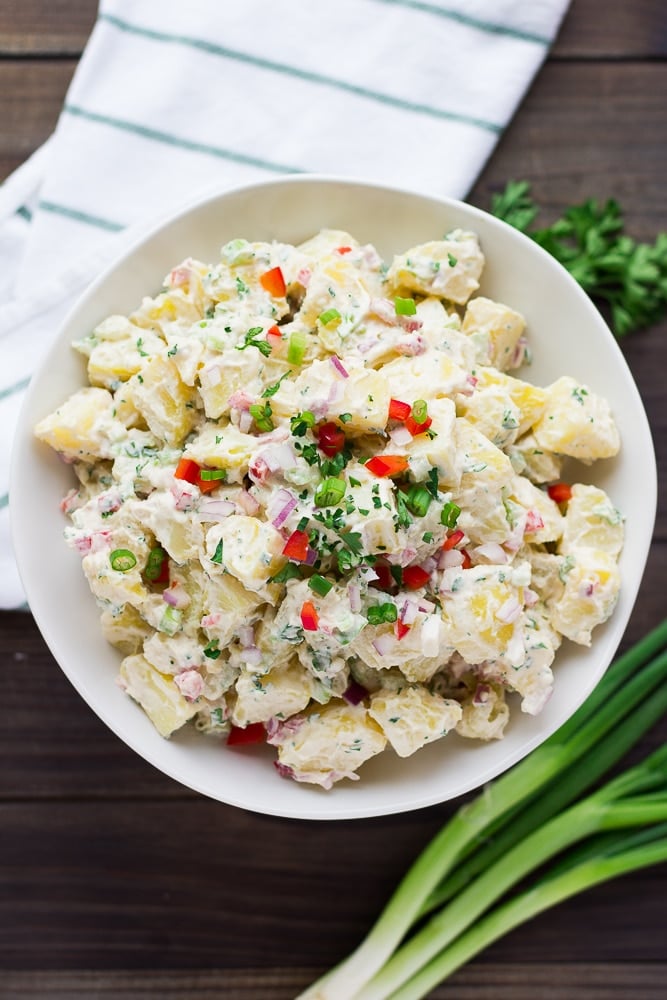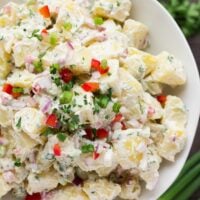 Add the chopped potatoes to a large pot and cover them with water. Bring to a boil and cook for 10-15 minutes, until the potatoes are tender when pierced with a fork. Drain the potatoes in a colander. 

In a large bowl, add the potatoes, red pepper, green onions, celery, red onion if using, parsley and vegan mayo. Mix until well combined with a large wooden spoon. Add salt and mustard to taste.

Cover and refrigerate for a few hours to allow the flavors to blend and to cool. Serve cold or at room temperature. 
You can sub vegan mayo if you like (I like the brand Just Mayo, or Vegenaise). Just know it won't be oil free anymore. 
I like yukon gold potatoes the best, but you can switch it up with red skinned potatoes, or even russets. Sometimes I like to leave the potatoes unpeeled.
You can vary the veggies depending on your tastes. Feel free to omit anything, or add other crunchy chopped veggies you may have on hand. 
Serving: 1serving, Calories: 202kcal, Carbohydrates: 19g, Protein: 4g, Fat: 12g, Saturated Fat: 1g, Sodium: 335mg, Potassium: 596mg, Fiber: 4g, Sugar: 1g, Vitamin A: 685IU, Vitamin C: 33mg, Calcium: 48mg, Iron: 4mg
*This recipe was originally posted in March 2017. I updated it with new photos and writing March 11th, 2019. 
We are a participant in the Amazon Services LLC Associates Program, an affiliate advertising program designed to provide a means for sites to earn advertising fees by advertising and linking to amazon.com. Read my full disclosure here
Source link