LUNCH
Vegan Egg Salad Sandwich – Nora Cooks
Thanks to a few tricks and tips, this is the best Vegan Egg Salad ever! It makes the perfect sandwich on sourdough bread with butter lettuce, and is full of plant protein.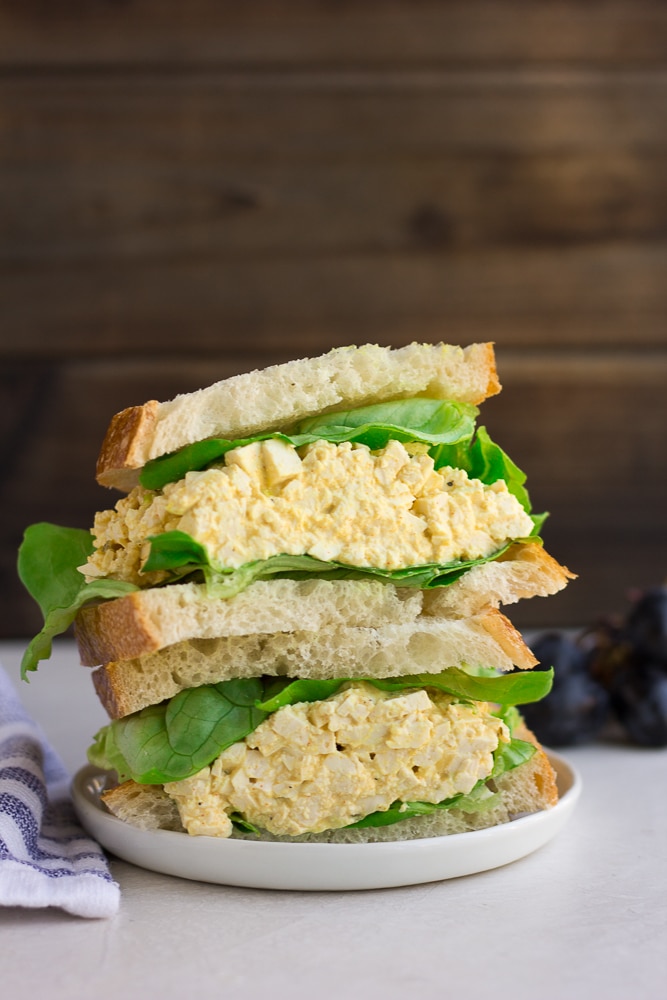 I can't be the only one who has nostalgic memories of eating egg salad sandwiches as a kid. I LOVED egg salad. It's one of the things I truly miss from before my vegan days. If you also miss egg salad sandwiches then you are going to love this recipe!
I played with this recipe to get it just right. Some recipes have you mash or crumble the tofu, but that didn't work for me. The texture just wasn't the same as what I remember. Then, I had an idea.
I discovered a special way of slicing and chopping the tofu to make it mimic hard-boiled eggs. PERFECTION. The flavorful, creamy sauce pairs perfectly with the tofu. Read on to learn how to make the best Vegan Egg Salad ever!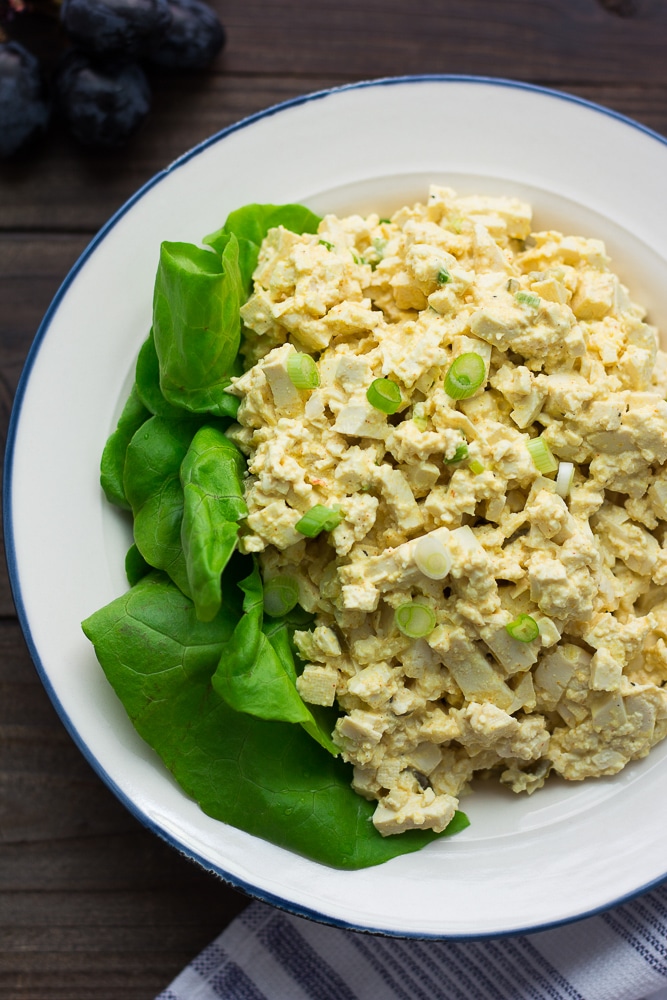 How to prepare the tofu:
First, press a block of firm tofu for about 20 minutes, to remove most of the water.
Next, slice the block as shown below, into thin slices. Then, slice the other way, thinly.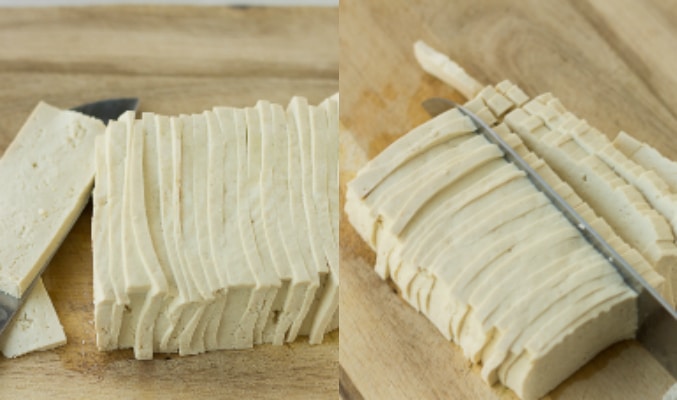 Finally, chop the pieces of tofu even more with a knife, in a rough fashion, until you have lots of little pieces and it looks something like the photo below. Some pieces can be bigger and some smaller, they don't have to be uniform in size. This will mimic hard-boiled eggs.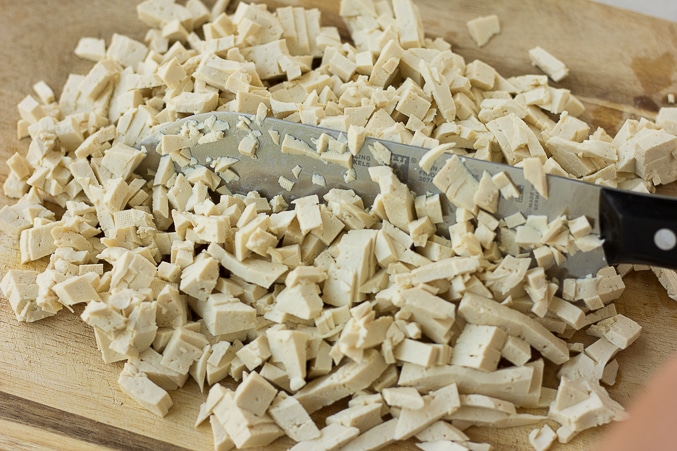 What is the dressing for vegan egg salad?
For the dressing, start by making a batch of Vegan Mayo. OR you can use store bought vegan mayo, your choice.
The dressing includes vegan mayo, yellow mustard, dill pickle juice (SO GOOD), sweet relish, smoked paprika, tiny pinch of turmeric, salt and pepper. Use black salt for an even eggier, sulfur flavor. I don't personally like the stuff, but a lot of people do!
This post contains affiliate links. Read my full disclosure here.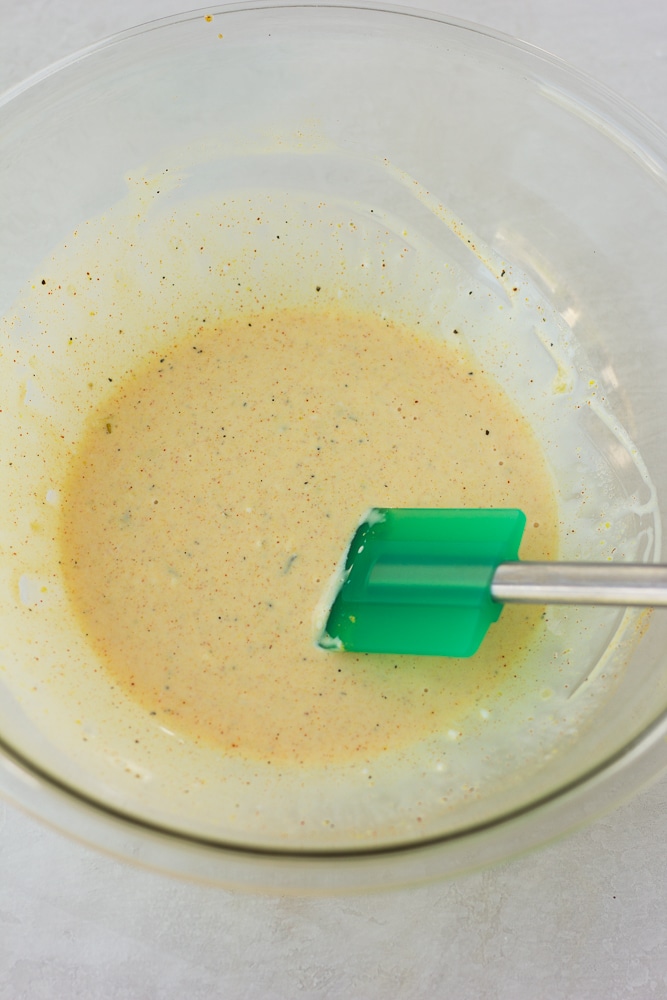 Put it all together:
Add the sliced tofu to the bowl with the dressing, along with a sliced green onion, and stir. Refrigerate for about 30 minutes at least, to let the flavors meld together before serving. Serve on bread (I love sourdough) with butter lettuce for best results.
You could also have it over a bunch of chopped lettuce, or in lettuce wraps. Serve alongside Vegan Potato Salad or Vegan Coleslaw.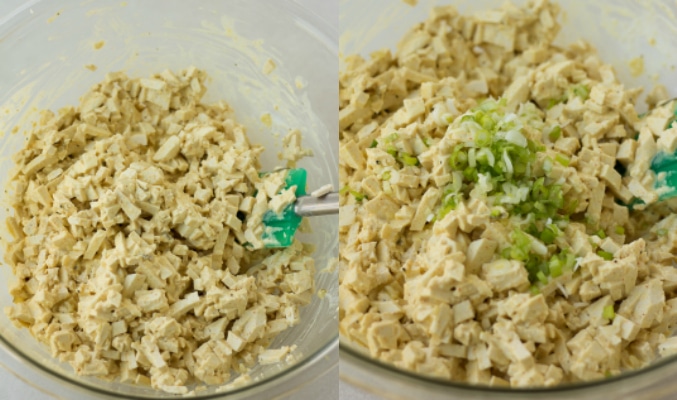 Want more easy vegan sandwiches?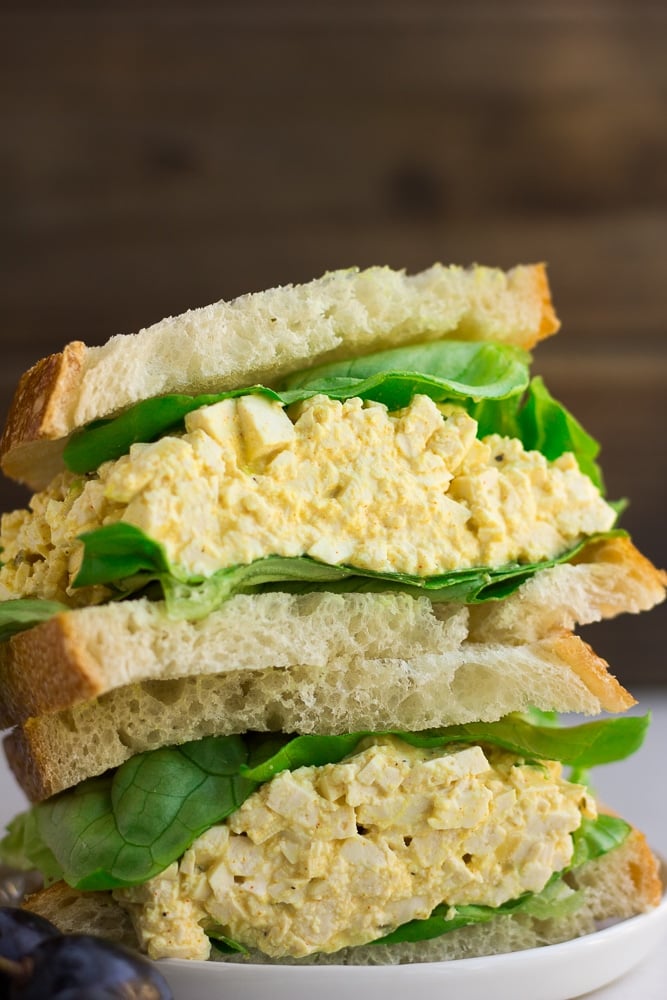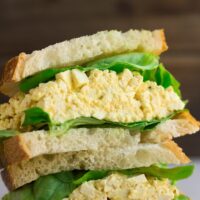 1

block

firm tofu

,

(16 oz)

1/4

cup

Vegan Mayo ,

| homemade or store bought

1

teaspoon

yellow mustard

1 1/2

tablespoons

dill pickle juice

2

teaspoons

sweet relish

1/8

teaspoon

smoked paprika

tiny pinch turmeric

,

optional, for color

1/2

teaspoon

salt, or to taste

, | use black salt for a more eggy, sulfur flavor

1/4

teaspoon

black pepper

1

green onion, white and light green parts, thinly sliced

,

(2 tablespoons)

loaf of bread, butter lettuce for serving
Press the tofu: Wrap the block of tofu in paper towels or a clean tea towel. Place something heavy on top of it, like a cast iron pan, and let it sit for 20 minutes.

Make the dressing: While the tofu presses, whisk together the vegan mayo (1/4 c), yellow mustard (1 tsp), dill pickle juice (1 1/2 tbs), sweet relish (2 tsp), smoked paprika (1/8 tsp), turmeric (tiny pinch), salt (1/2 tsp) and black pepper (1/4 tsp).

Slice the tofu: Once the tofu is pressed, slice the block into thin strips, then slice thinly the other way. Chop into even smaller pieces. (SEE PHOTOS ABOVE FOR REFERENCE)

Add the tofu to the bowl with the creamy dressing, along with the sliced green onions. Stir well. Cover and refrigerate for 30 minutes if possible before eating, to let the flavors meld together. Serve on sourdough, or other bread (gluten free if needed) with butter lettuce. Enjoy!
I suggest using my Vegan Mayo, but you can use store bought vegan mayo such as Just brand or Veganaise. 
You can use black salt for an eggy, sulfur flavor. I personally don't like it so I use regular salt. Either is fine!
Calories listed are for 1/6th of the egg salad, using my vegan mayo recipe.
Store leftovers in a covered container in the refrigerator for 3-4 days. Great meal prep idea!
Serving: 1serving, Calories: 128kcal, Carbohydrates: 4g, Protein: 7g, Fat: 9g, Saturated Fat: 1g, Sodium: 329mg, Fiber: 1g, Sugar: 1g, Vitamin A: 61IU, Vitamin C: 1mg, Calcium: 94mg, Iron: 1mg
We are a participant in the Amazon Services LLC Associates Program, an affiliate advertising program designed to provide a means for sites to earn advertising fees by advertising and linking to amazon.com. Read my full disclosure here
Source link