LUNCH
Vegan Pasta Salad – Nora Cooks
This Vegan Pasta Salad is perfect for summer potlucks. Pasta, fresh vegetables and vegan cheese cubes are tossed in a briny vinaigrette to create an incredible side dish you will make again and again!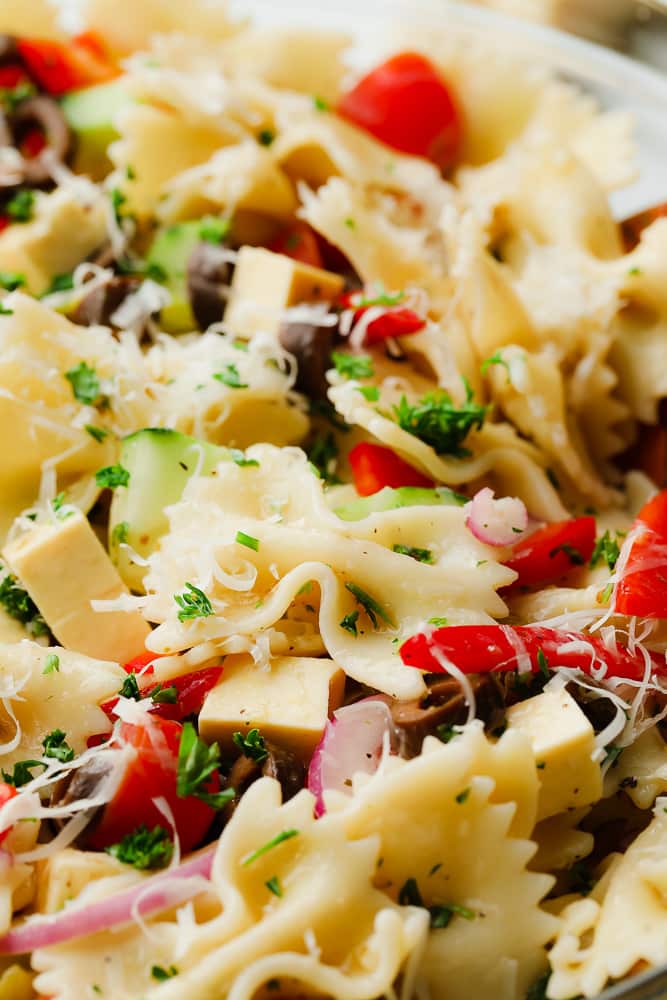 Can you even call it a summer barbecue without a big bowl of cold pasta salad? I don't think so! Bring a chocolate sheet cake as well for the perfect dessert to feed a crowd.
Vegan Pasta Salad is a welcome and flavorful side next to your barbecue favorites like veggie burgers, grilled veggies, and barbecue sauce-slathered tofu. Crisp bell peppers, red onions, pepperoncini peppers, vegan cheese and pasta are covered in a light and briny Italian dressing that truly makes the salad irresistible.
There are a million reasons why pasta salad is so great, but I especially love how easy the recipe is to throw together and that it can be stored away for days. In fact, the flavors get better and better as it keeps!
You should definitely bring this to your next cookout! It's a simple recipe that's also:
Flexible
Quick and easy
So fresh
Budget-friendly
And hearty!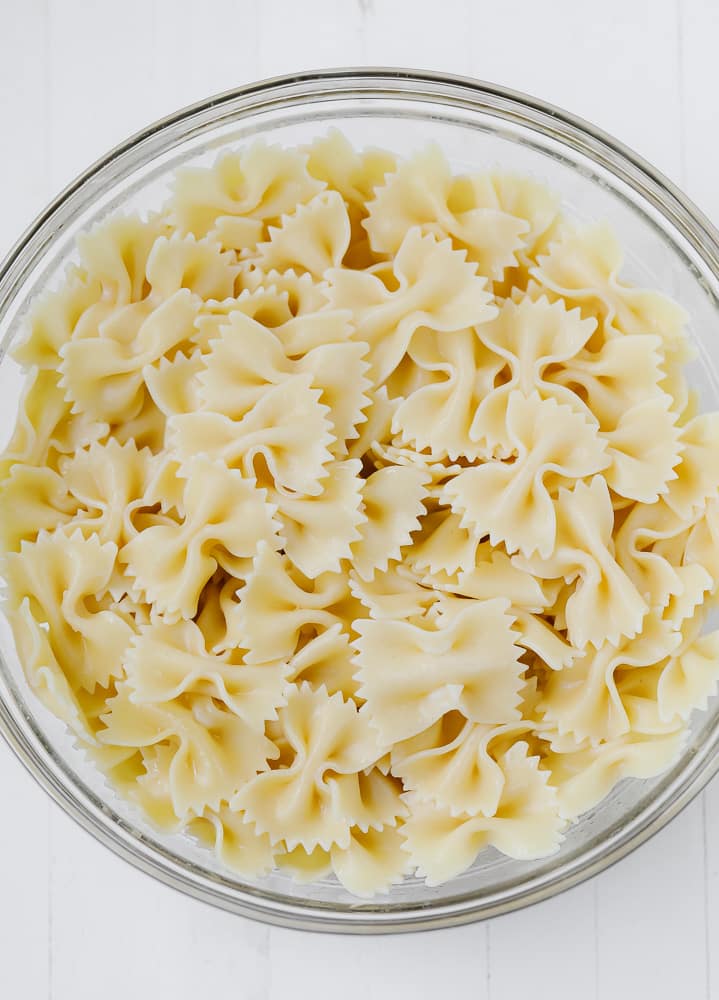 Veggie pasta salad with Italian dressing
The secret to this Italian-inspired pasta salad is the sweet and mild pepperoncini peppers! You'll need them for both the salad and the dressing. Mixing the pepperoncini brine with herbs, red wine vinegar, and a little sugar transforms a basic vinaigrette into a playful Italian dressing you can use on grilled vegetables, green salads, and more.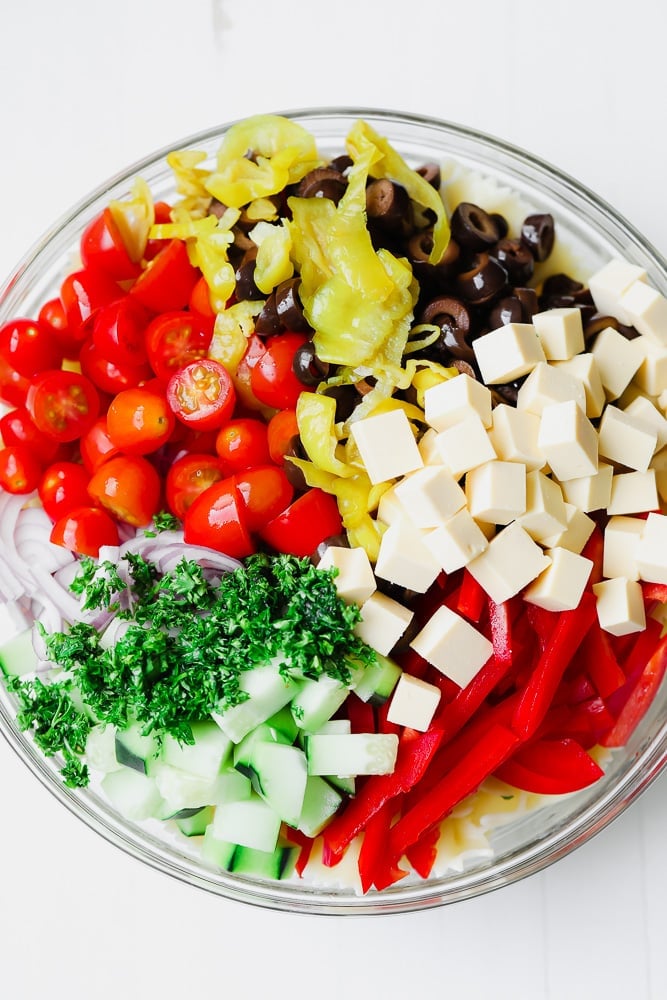 How to make vegan pasta salad
You'll start by cooking the pasta according to the package instructions. Drain the water and rinse the pasta with cold water to cool it off. Toss it with some oil in a large bowl and set aside.
Make the dressing by whisking the ingredients together in a bowl or a jar.
Assemble the pasta salad by stirring the veggies, cheese, and dressing together with the pasta. Cover the bowl with a lid or plastic wrap and let it chill in the fridge for at least 30 minutes before serving.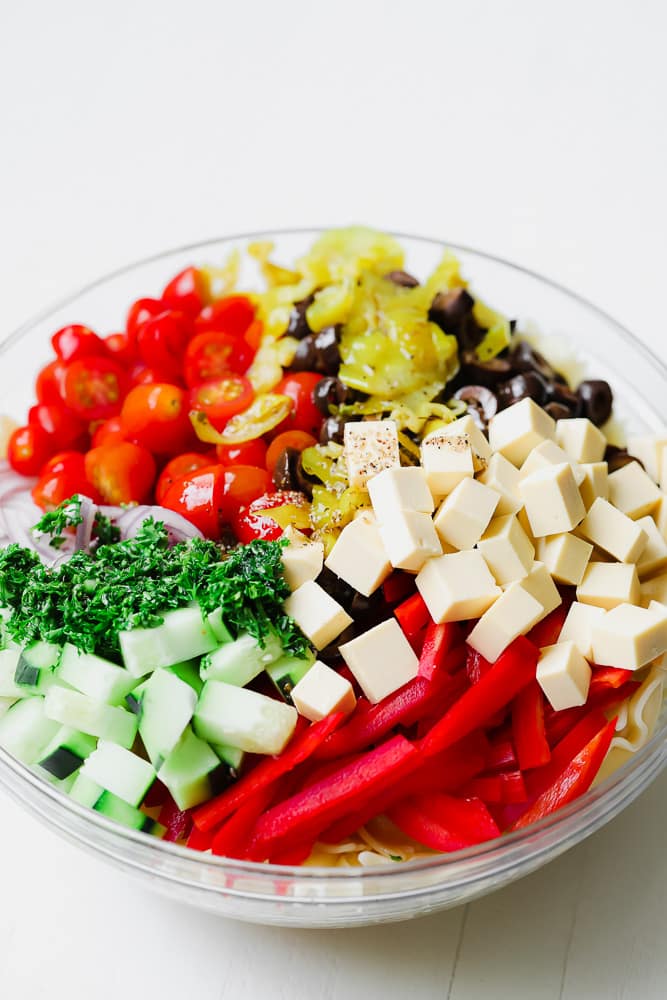 Frequently asked questions
Can I add in more veggies? This recipe is so flexible that you can easily leave out what you don't like, or add more vegetables such as broccoli, carrots, zucchini, green onions, etc.
What else can I add? Customize this plant based pasta salad with vegan cheddar or mozzarella cheese, white beans or chickpeas, seeds and herbs on top, smoked tofu, and more. I used Violife's Mature Vegan Cheddar, cut into cubes. Vegan Pepperoni would also be good here.
Can it be made gluten free? Yes. Simply replace the pasta with your favorite gluten free pasta instead.
Can I make it ahead of time? Yes! The pasta salad needs to chill in the fridge for at least 30 minutes before serving but you can leave it for up to 5 days if you want.
Storing leftovers
Keep some leftover pasta salad in airtight containers for easy grab-and-go weekday lunches. It will stay fresh in the fridge for up to 5 days, meaning you can enjoy it all week long or as a quick side dish with dinner. Feel free to stir in more dressing or liven it up with a little olive oil if the pasta has dried out.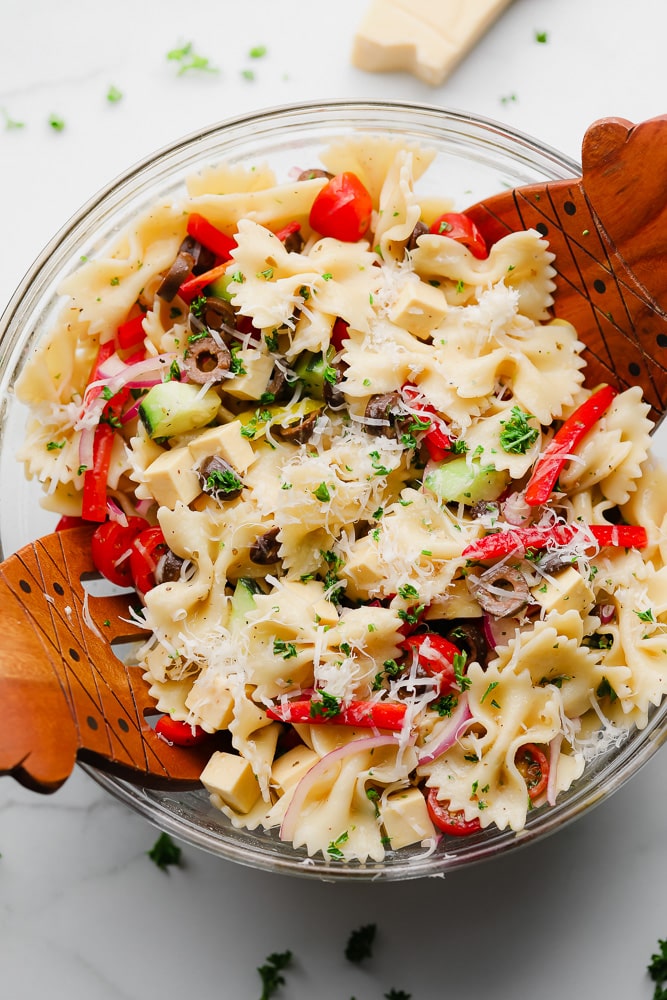 More potluck ready salads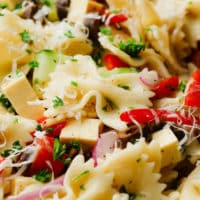 Cook the pasta according to package instructions, then drain and rinse in cold water. Add cooked pasta to a large bowl and toss in a few teaspoons of olive oil, so it doesn't stick together.

While the pasta cooks, chop and slice all the vegetables and cheese. Set aside.

Whisk all dressing ingredients in a medium bowl until well combined. You can also simply add all the dressing ingredients to a jar with a lid, and shake until combined.

To the bowl with the pasta, add the vegetables, cheese and dressing. Stir to combine.

Cover the bowl and chill for at least 30 minutes if possible before serving. It will stay good for up to 5 days. Right before serving, sprinkle with Vegan Parmesan, if desired. Enjoy!
Feel free to leave out any vegetables you don't like, and add what you do like such as broccoli florets, carrots, diced zucchini, green onions, chickpeas, etc.
For oil free, simply leave out the olive oil and omit the vegan cheese. 
Gluten free? Swap gluten free pasta for regular.
Serving: 1of 10 servings, Calories: 302kcal, Carbohydrates: 38g, Protein: 7g, Fat: 14g, Saturated Fat: 2g, Sodium: 335mg, Potassium: 218mg, Fiber: 3g, Sugar: 3g, Vitamin A: 575IU, Vitamin C: 20mg, Calcium: 31mg, Iron: 1mg
We are a participant in the Amazon Services LLC Associates Program, an affiliate advertising program designed to provide a means for sites to earn advertising fees by advertising and linking to amazon.com. Read my full disclosure here
Source link