LUNCH
The Best Vegan Macaroni Salad
Hands down the best Vegan Macaroni Salad, made with all the classic ingredients and tossed in a super creamy sauce! Perfect for bringing to summer BBQ's/potlucks. Oil free.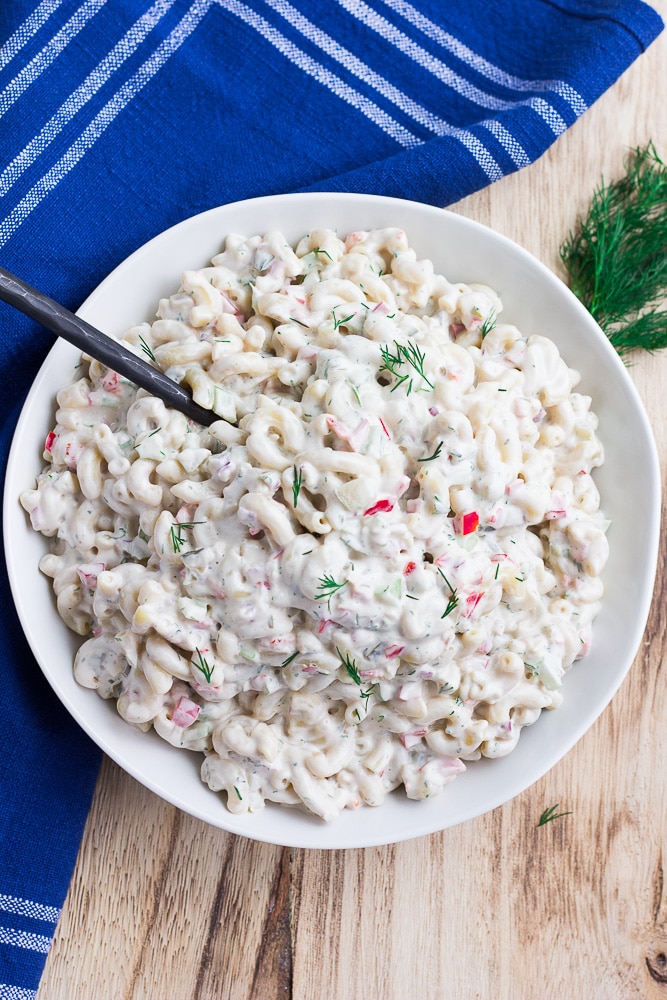 Macaroni salad is a must have at any cookout/BBQ/potluck, and today I'm going to share with you the absolute BEST vegan version. It's incredibly creamy and flavorful, and is sure to be a hit at your next get-together!
+ it's oil free and can be easily made gluten free as well. Let's do it!
What ingredients are in macaroni salad?
In my perfect vegan macaroni salad, the main ingredients are:
Elbow noodles, of course
Celery
Red bell pepper
Red onion
Fresh dill
Sweet pickles
And a creamy, slightly sweet and tangy dressing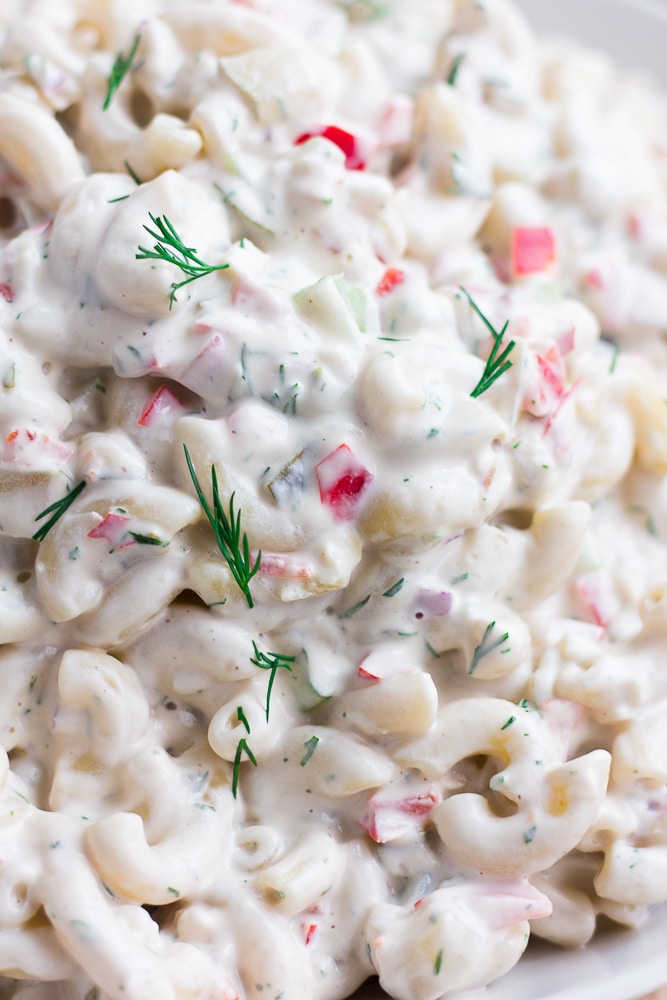 How do you make vegan macaroni salad without mayonnaise?
I first made the recipe using store bought vegan mayonnaise. And it was good, so that's an option for sure. But it wasn't quite as creamy as I wanted. So I decided to test out a cashew based dressing, and voila! So much creamier with the perfect blend of flavors.
If you have a cashew allergy, feel free to use vegan mayo. I've included the instructions in the NOTES section of the recipe card below.
The cashew based creamy dressing is made of: soaked raw cashews, water, apple cider vinegar, sweet pickle juice, a little bit of sugar, mustard and salt. You will need a high powered blender to make the dressing; a regular blender just won't do it.
This post contains affiliate links. Read my full disclosure here.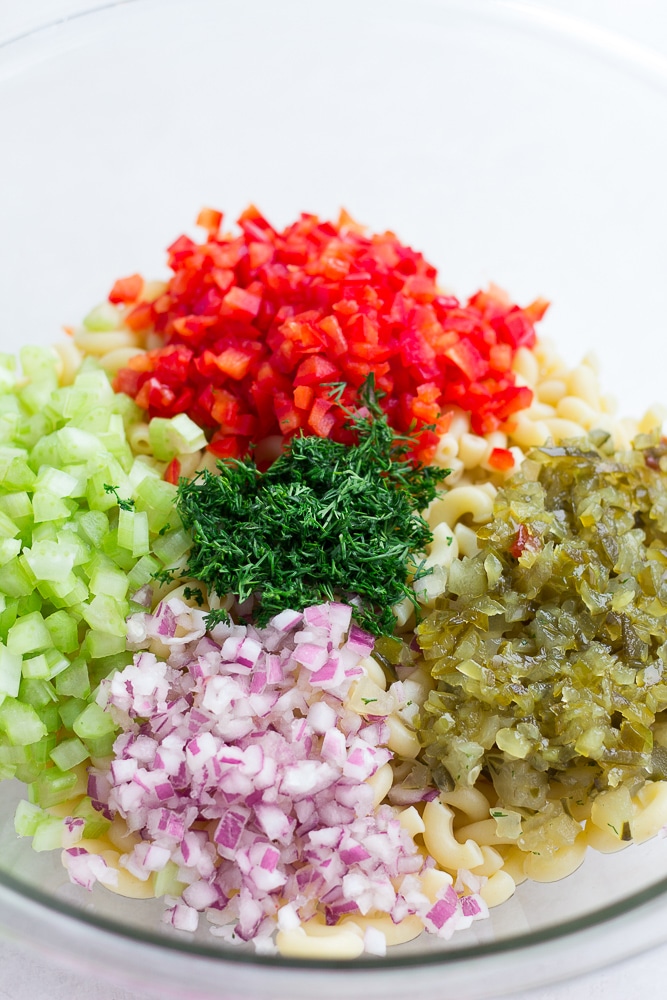 How long will macaroni salad keep?
It will keep for 3-4 days covered in the refrigerator. The cashew based dressing does cause the salad to get thicker in the refrigerator, but don't worry. All you have to do is add a few tablespoons of water and mix to thin it out again. Easy peasy.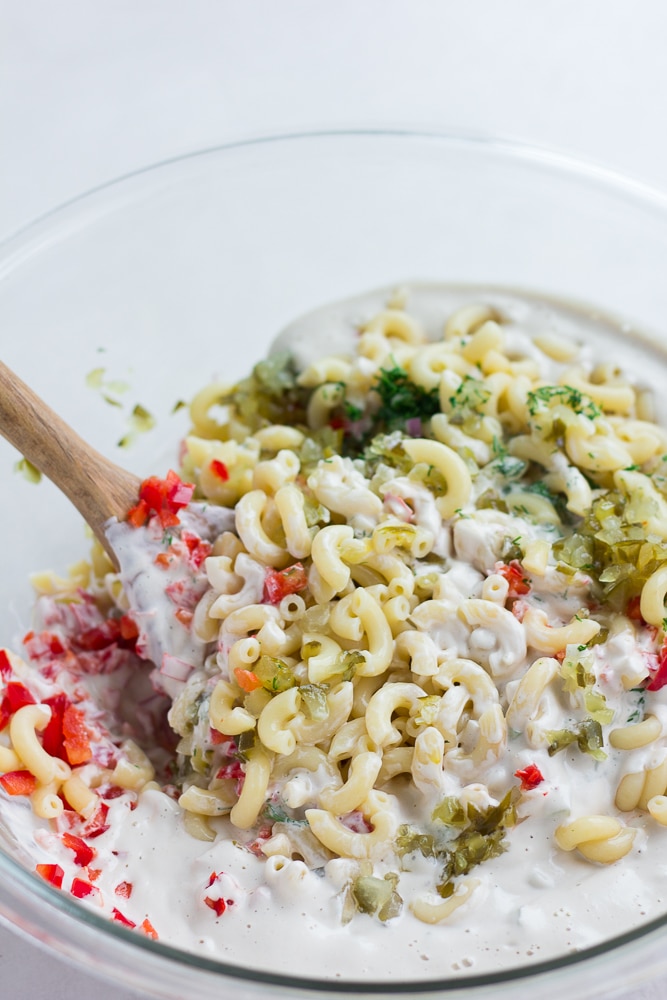 What should I serve with vegan macaroni salad?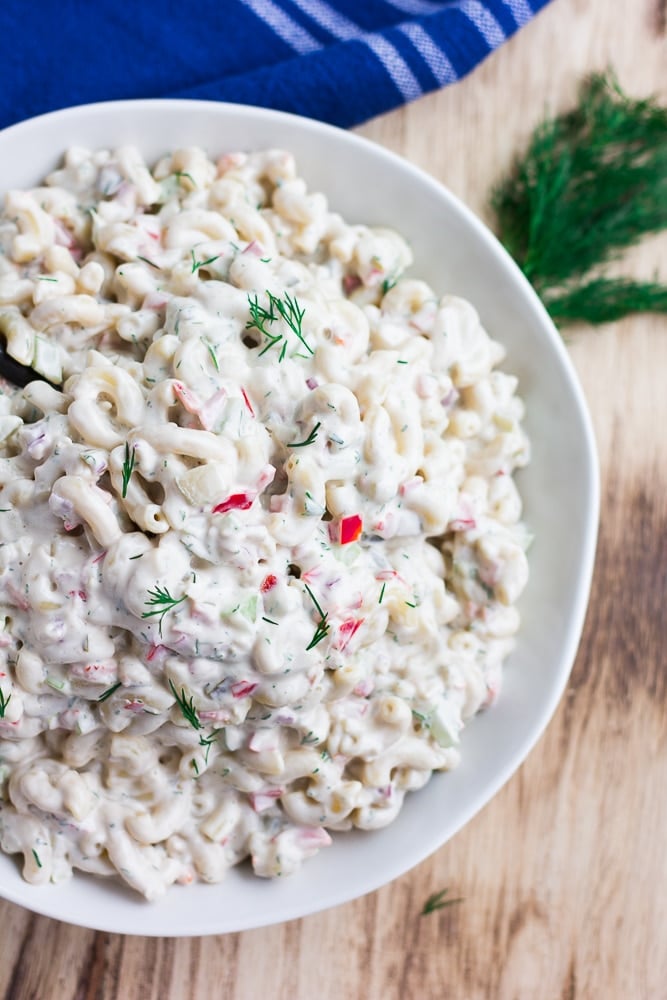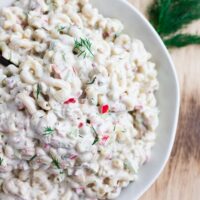 Soak the cashews: Heat up about 2 cups of water in a tea kettle or small pot. Pour the boiling hot water over the cashews and let them soak while you prepare the noodles.

Prepare the macaroni noodles according to package instructions, then immediately rinse well with cold water. Add the drained noodles to a large bowl.

Finely chop the celery, red bell pepper, red onion, dill, sweet pickles and add them all to the bowl with the noodles.

Make the dressing: Drain the soaked cashews, and then add them to a high powered blender along with the 3/4 cup fresh water, apple cider vinegar, sweet pickle juice, sugar, mustard and salt. Blend on high until very smooth.

Pour the dressing over your macaroni salad ingredients and toss until everything is well coated. Cover and refrigerate for at least 30 minutes if you can to allow the flavors to meld together. The sauce thickens up in the refrigerator, so simply add a little water and mix until it thins out a bit.
I used white macaroni noodles, but you can make this gluten free if needed by using gluten free pasta. Bean based pasta would also work.
Feel free to leave out any vegetables you don't like, such as the celery, red onion or red bell pepper. 
If you want, you can also use 1 cup of store bought vegan mayonnaise instead of the cashew based dressing. To do this, add 1 cup of vegan mayo to a mixing bowl, along with the vinegar, pickle juice, sugar, mustard and salt. Whisk well, then add to the salad.
Serving: 1serving, Calories: 280kcal, Carbohydrates: 39g, Protein: 9g, Fat: 10g, Saturated Fat: 2g, Sodium: 358mg, Potassium: 253mg, Fiber: 2g, Sugar: 6g, Vitamin A: 359IU, Vitamin C: 13mg, Calcium: 20mg, Iron: 2mg
We are a participant in the Amazon Services LLC Associates Program, an affiliate advertising program designed to provide a means for sites to earn advertising fees by advertising and linking to amazon.com. Read my full disclosure here
Source link