LUNCH
Pesto Pasta Salad – Nora Cooks
Enjoy this Pesto Pasta Salad tossed with arugula, tomatoes, and fresh pesto for a picnic-perfect side dish. Vegan and easy to make gluten free, if needed.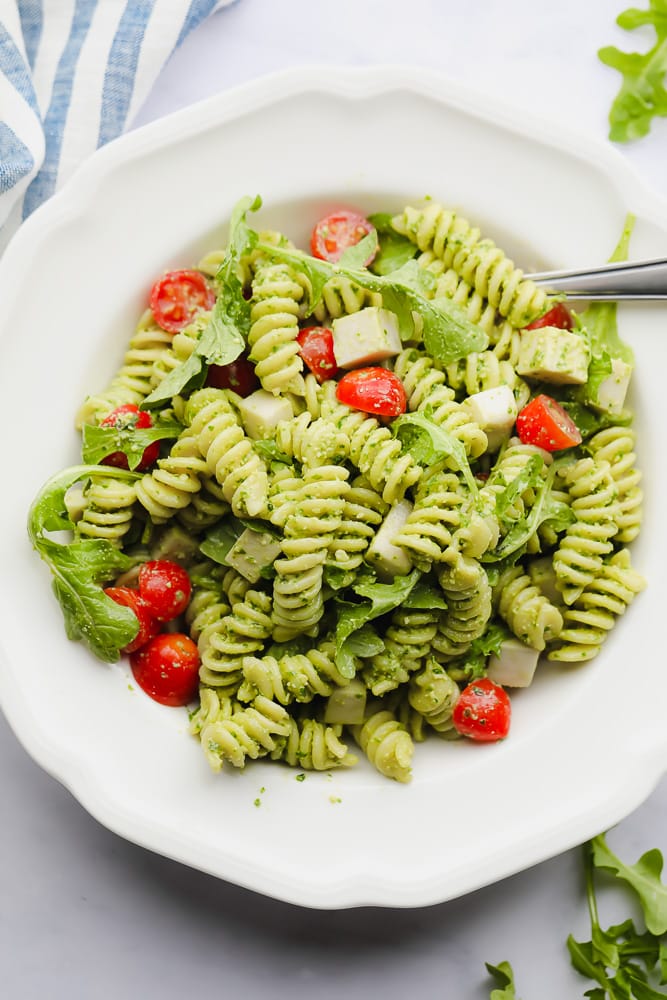 This pesto pasta salad will be the hit of your spring or summer potluck. Tossed with my fresh and easy Vegan Pesto, the pasta noodles are coated in herby goodness along with sliced tomatoes and peppery arugula. The whole thing comes together in minutes!
Just like my other pasta salad recipes, a bowl of these tasty noodles can easily be customized to your liking. Add in vegan parmesan for more cheesy flavors or vegetables and beans for extra protein and color. Just throw it all together in a bowl and leave it in the fridge until it's time to eat.
This pesto pasta salad is the perfect side dish to accompany Veggie Burgers and Best Potato Salad at your next potluck or barbecue. It's so flavorful, easy to put together, and stores so well for days!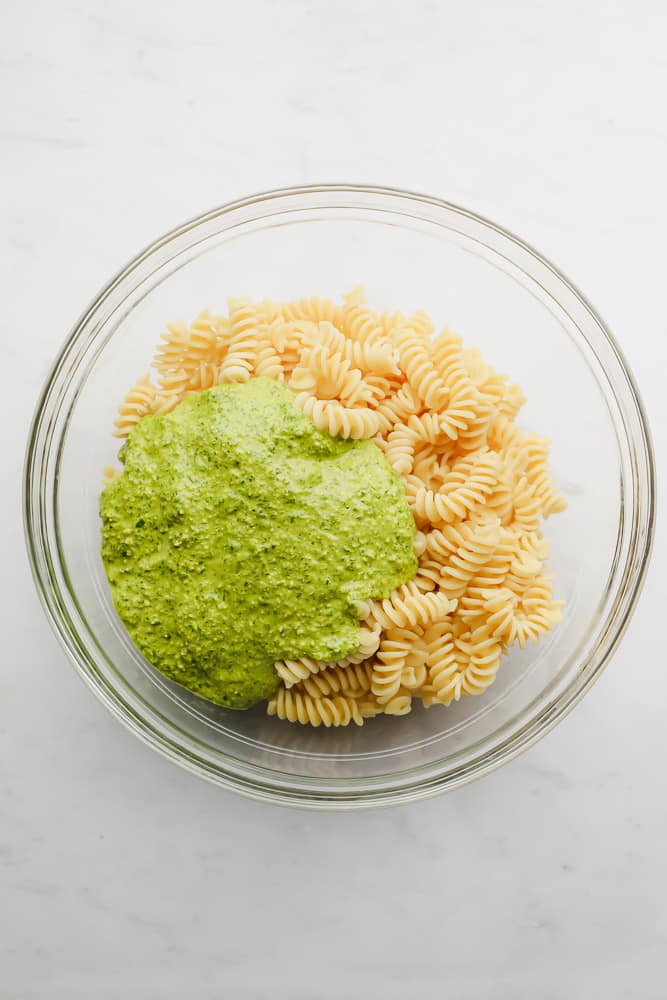 Easy homemade pesto
My Vegan Pesto recipe is made with simple ingredients like cashews, basil, nutritional yeast, and garlic. It whips up in minutes and is easy to freeze so you can have some ready at all times.
It's best if the pesto isn't too thick before you add it to this recipe. Pour in a little water or olive oil and whisk it together in a bowl. Once it's at the right texture, you can add it to the pasta.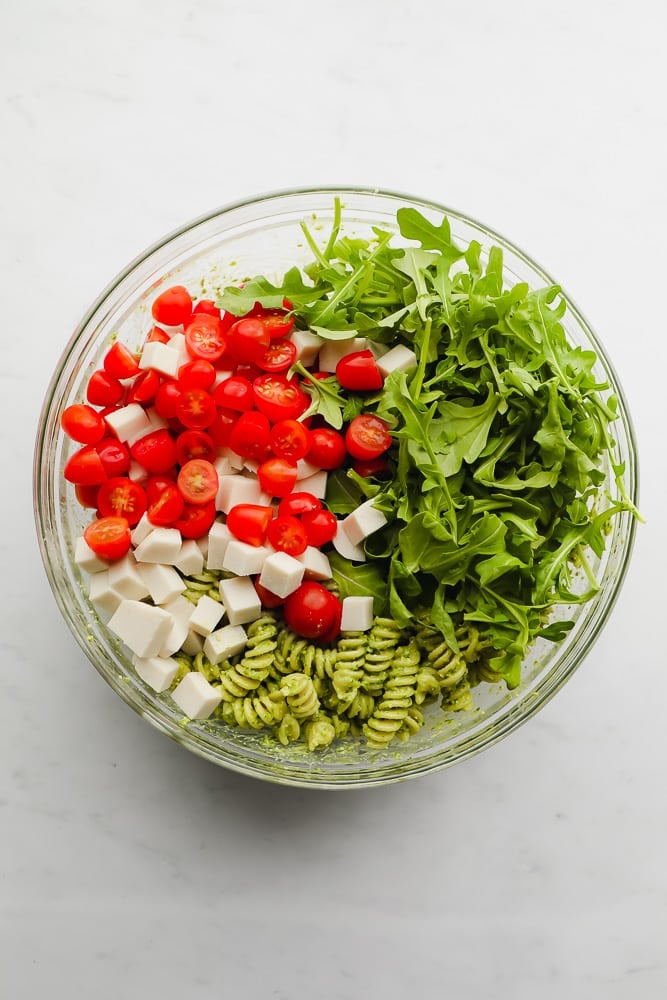 How to make pesto pasta salad
Cook your pasta, drain the water, and rinse with cold water. Once it's cool, add it to a large bowl.
Add in the pesto and stir it together with the pasta until the noodles are well coated. Next, fold in your tomatoes, arugula and cubed vegan cheese (if using.) Season with some salt and pepper, cover the bowl with a lid, and let the pasta salad chill in the fridge until it's time to serve.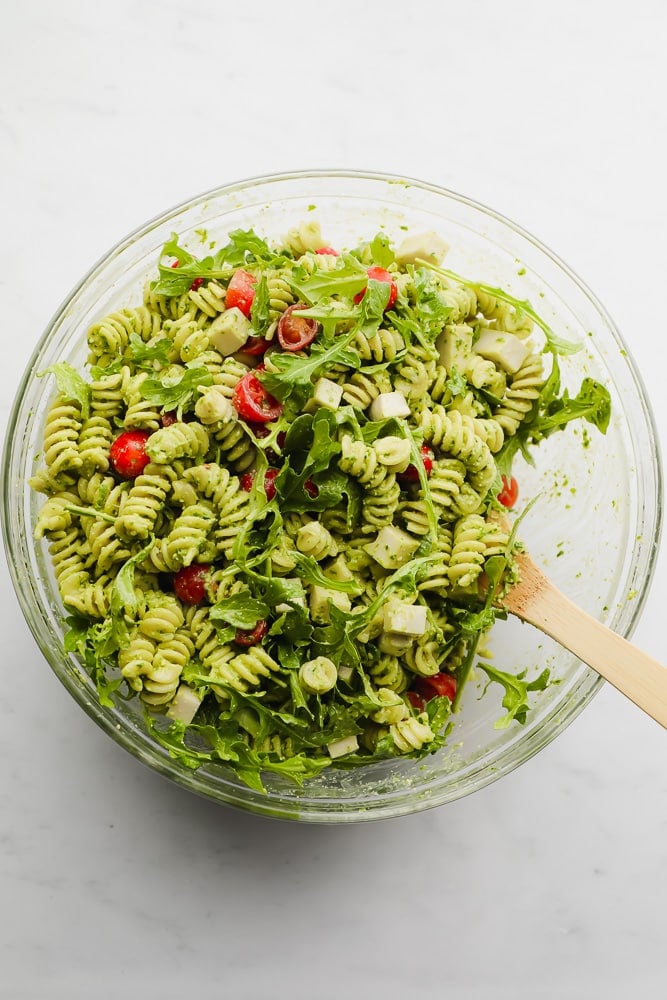 Tips and substitutions
Gluten free – Just use your favorite gluten free pasta noodles.
More vegetables – Feel free to add in as many vegetables or beans that you'd like. Cucumbers, sliced bell peppers, kalamata olives, chickpeas, or shredded carrots would all be good in this pasta salad.
Vegan cheese – Make it a little creamy by adding cubed vegan mozzarella, like Miyoko's or my homemade Shreddable Vegan Mozzarella. About 2 cups should do it.
Before serving – Stir the mixture one more time. Pour in a little more olive oil or water if it seems a bit dry.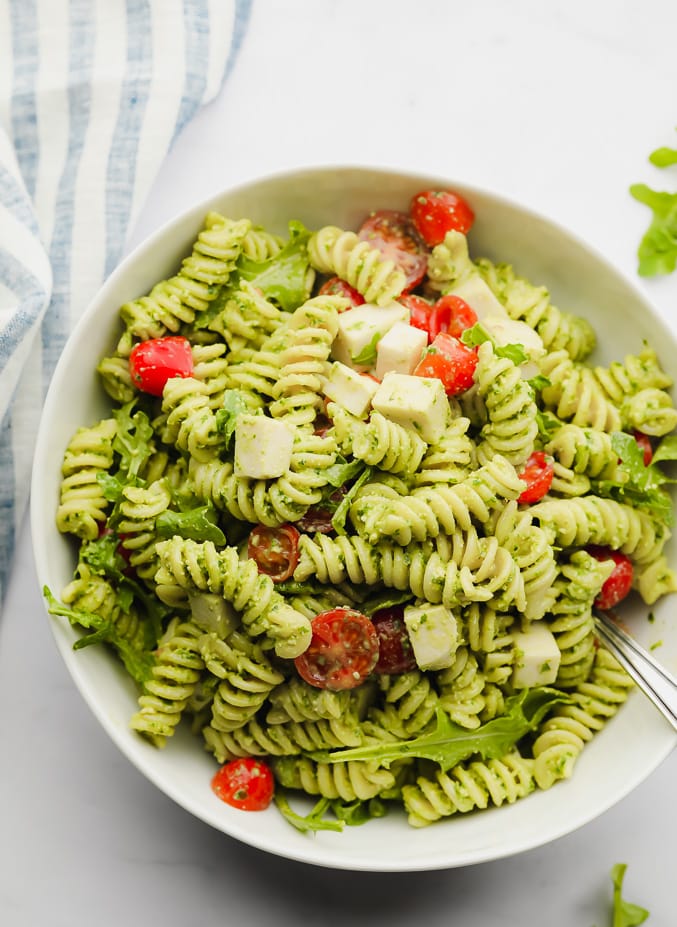 Making ahead and storing
If making the vegan pesto fresh, either store it in an airtight container in the fridge for 1 week or freeze for up to 6 months. Just freeze the batch in ice cube trays and transfer to ziploc bags once they're fully frozen.
Make this cold pasta salad ahead of time and keep it covered in the fridge for up to 4 or 5 days. Just mix it with a little water or olive oil before serving the leftovers.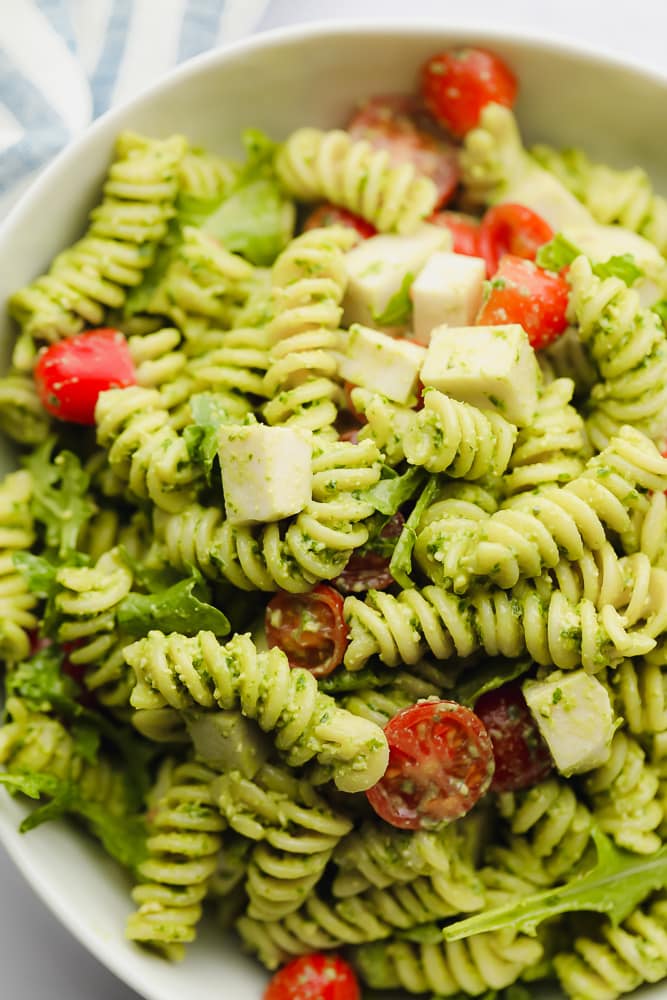 Want more summer-ready vegan recipes?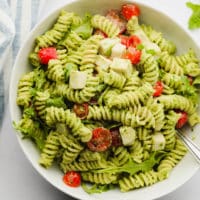 Cook pasta according to package instructions. Drain and rinse with cold water.

Add the pasta to a large bowl. If using my homemade Vegan Pesto, make sure it's not too thick when you add it. Add additional water or olive oil and whisk first in a medium bowl, then add to the pasta and stir until the noodles are coated.

Fold in the halved tomatoes, arugula and vegan cheese cubes, if using. Season to taste with salt and pepper. Cover and refrigerate until ready to serve.

Right before serving, stir one more time, adding a little more olive oil or water if the mixture seems a bit dry. It can be stored in the refrigerator for 4-5 days. Enjoy!
Use gluten free pasta to make the salad gluten free.
May substitute baby spinach for the arugula, if desired.
Serving: 1of 8 servings, Calories: 285kcal, Carbohydrates: 36g, Protein: 7g, Fat: 10g, Saturated Fat: 2g, Sodium: 298mg, Potassium: 190mg, Fiber: 2g, Sugar: 3g, Vitamin A: 896IU, Vitamin C: 9mg, Calcium: 69mg, Iron: 1mg
We are a participant in the Amazon Services LLC Associates Program, an affiliate advertising program designed to provide a means for sites to earn advertising fees by advertising and linking to amazon.com. Read my full disclosure here
Source link