LUNCH
Best Vegan Potato Salad – Nora Cooks
This is the best dang vegan potato salad, period. It's ultra creamy with a flavorful mayo-mustard-sweet pickle dressing, "eggy" tofu and fresh dill! No one would ever guess it's 100% vegan.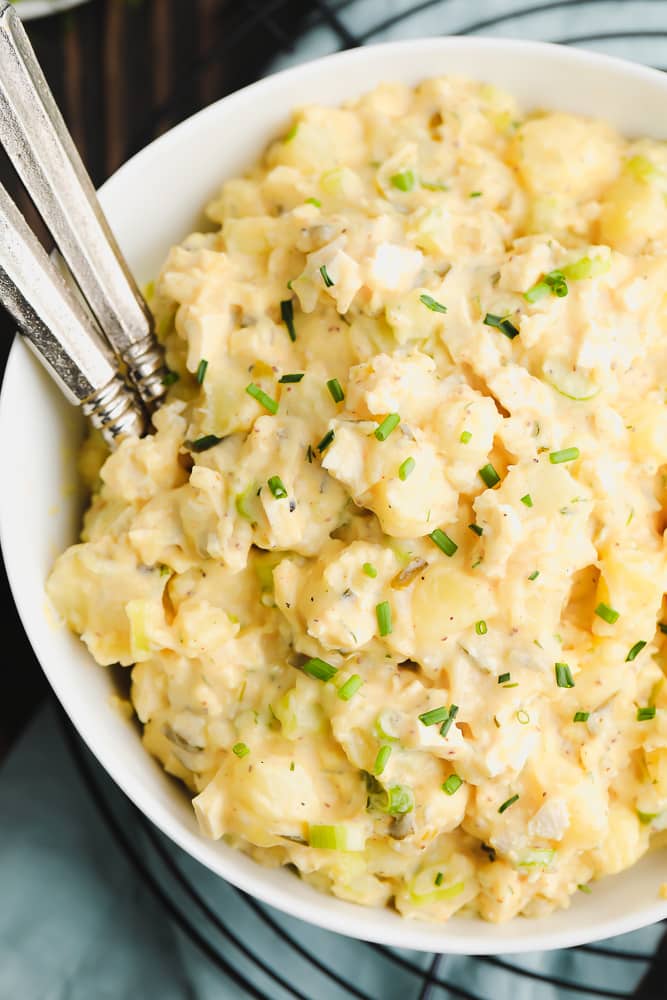 This old fashioned potato salad is the perfect dish to bring to a potluck. It's creamy with the right amount of crunch and so flavorful thanks to a mayo-mustard-relish dressing PLUS fresh dill.
Similar to my Vegan Egg Salad, we are adding sliced and chopped tofu to mimic hard boiled eggs. Mixed in with the incredibly tasty dressing, it's difficult to detect there are no eggs in the salad!
Of course you can leave out the tofu if you'd like, it's still the most delicious potato salad you'll ever eat!
I'll share a few tips and tricks that will bring your potato salad from good to great in no time.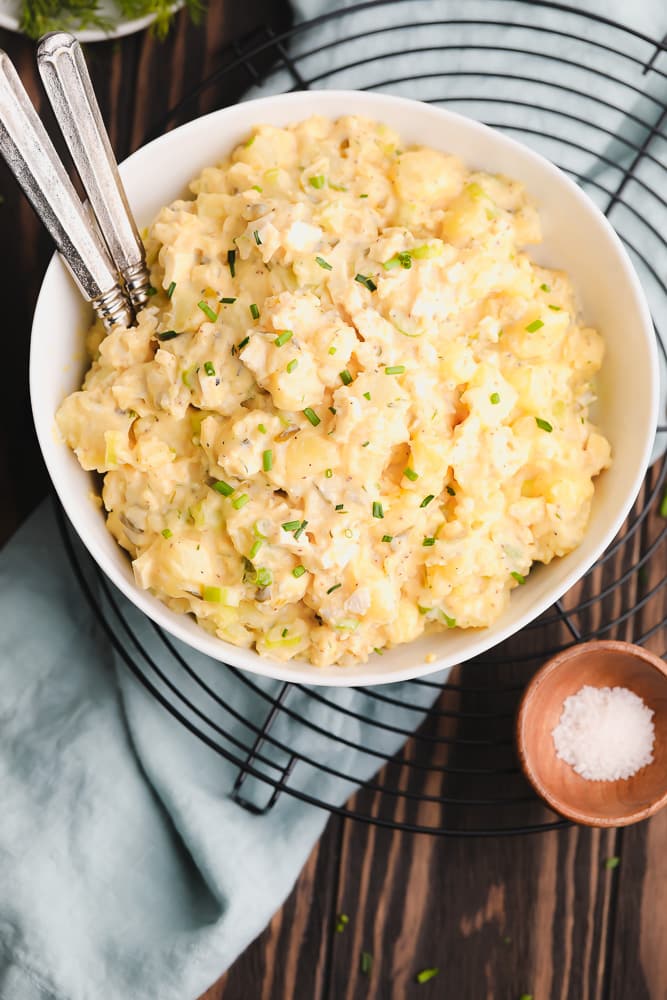 How to make vegan potato salad
Find the complete recipe with measurements below.
Once you have peeled and chopped your potatoes, vegetables and tofu, it's easy to throw this salad together.
Boil the diced potatoes for 10-15 minutes, until fork tender. Drain, then add to a large bowl.
Add the dressing ingredients to a bowl: vegan mayo, sweet pickle relish, mustard, apple cider vinegar, celery seeds and paprika.
Whisk dressing ingredients together until smooth and creamy.
To the large bowl with the cooked potatoes (still warm), add the dressing, sliced and chopped tofu and vegetables.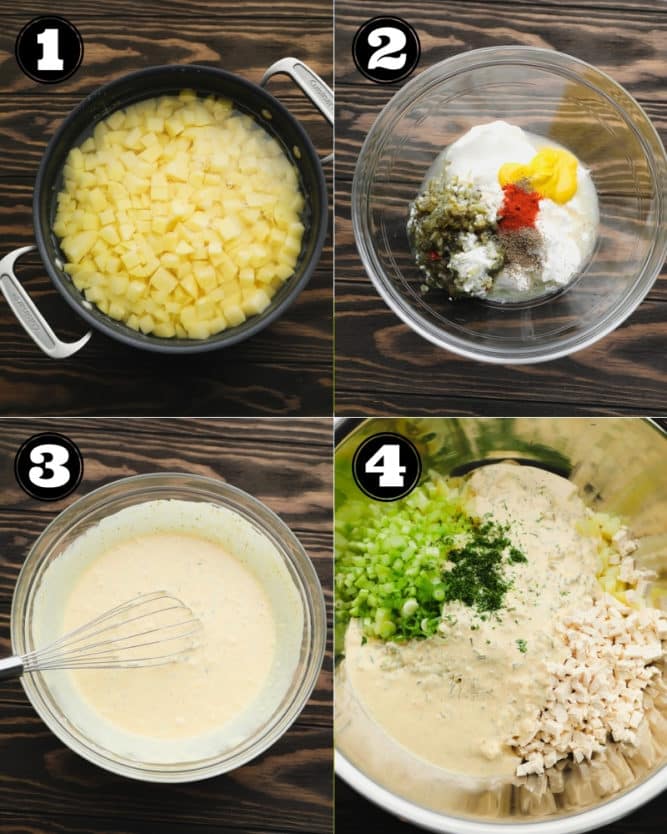 Mix everything together until the potatoes are coated. Add salt + pepper to taste, then cover and place in the refrigerator for at least 3 hours before serving.
Chilling the vegan potato salad overnight is even better, so the flavors have time to mingle and it gets really chilled!
Tips & substitutions
Peel and dice the potatoes small for the best texture and taste. 1/2-1 inch pieces are best. When you mix everything together, some of the potatoes get a little mashed, adding to the creaminess of the dish.
Vegan mayo – I used Vegenaise brand here, but I also like my homemade cashew based Vegan Mayo. The homemade version is oil free. Make sure you like the taste of whichever kind you choose.
May use dill relish instead of sweet, but I very much prefer sweet pickle relish here!
May add or substitute vegetables depending on what you like. Consider adding some diced red bell pepper, chopped red onion or sweet onion, or even green peas.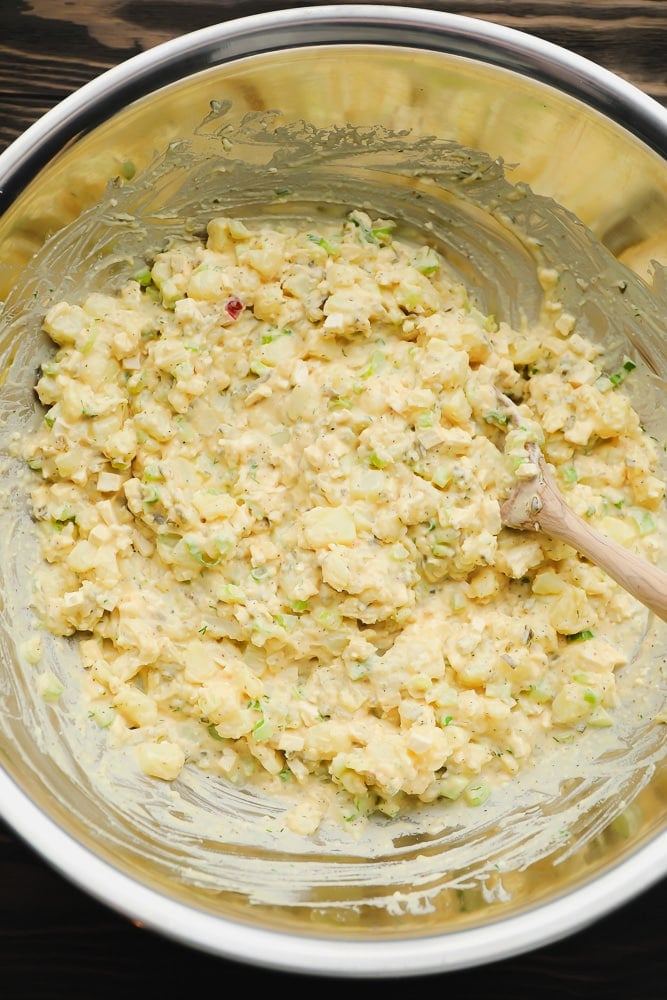 What to serve with vegan potato salad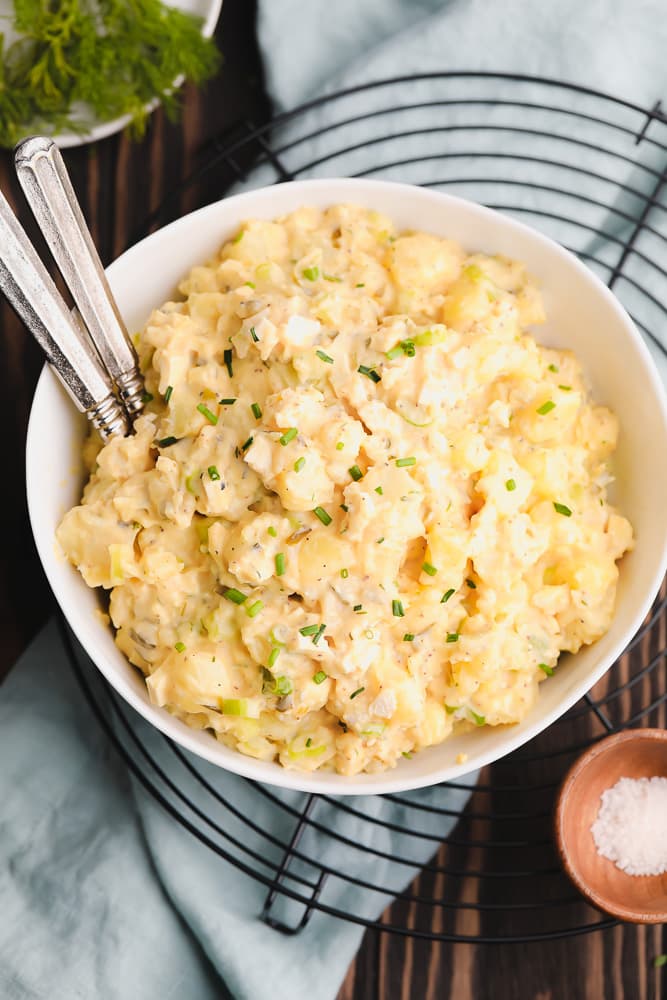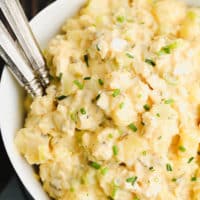 Cook the potatoes
Add the chopped potatoes to a large pot and cover them with water. Bring to a boil and cook for 10-15 minutes, until the potatoes are tender when pierced with a fork. Drain the potatoes in a colander. 
Press and slice tofu
Meanwhile, press the tofu by wrapping in paper towels (or a clean dry tea towel.) Place a plate or pan on top of the wrapped tofu, and put a couple of heavy books or cast iron pan on top of that. Let the tofu press for about 20 minutes.

Once the tofu is pressed, slice the block into thin strips, then slice thinly the other way. Chop into even smaller pieces and set aside.
Make the dressing
In a medium bowl, whisk together the vegan mayo, pickle relish, yellow mustard, apple cider vinegar, celery seeds and paprika. Set aside.
Put it all together
Place the cooked and drained potatoes in a large bowl, while still warm. Add the chopped celery, green onions, dill, tofu and dressing to the potatoes, and stir gently to mix until the potatoes are coated. Add salt + pepper to taste.

Cover the potato salad and place in the refrigerator for at least 3 hours if possible before serving. Overnight is even better! It will keep for about 1 week in the refrigerator. Enjoy!
Serving: 1of 16 servings, Calories: 289kcal, Carbohydrates: 33g, Protein: 5g, Fat: 15g, Saturated Fat: 2g, Sodium: 282mg, Potassium: 634mg, Fiber: 4g, Sugar: 6g, Vitamin A: 278IU, Vitamin C: 29mg, Calcium: 59mg, Iron: 2mg
We are a participant in the Amazon Services LLC Associates Program, an affiliate advertising program designed to provide a means for sites to earn advertising fees by advertising and linking to amazon.com. Read my full disclosure here
Source link